Earlier this month, Challenge Roth saw new world records attained with Germany's Andreas Raelert clocking in at 7:41:33 and three-time Ironman champion Chrissie Wellington breaking her own record with a time of 8:18:13.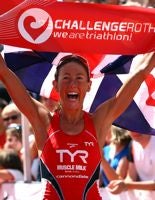 Now Challenge Roth set a new record: the fastest sell out in its history. Entries opened on Monday and within 24 hours, all 3,600 entries were filled. Additionally, all relay entries sold out in just 45 minutes.
PHOTOS: 2011 Challenge Roth Triathlon
Those who didn't get in still have one more opportunity. On December 6, at noon CET, charity slots will open until filled.
See the complete press release below:
The world's largest iron distance triathlon, Challenge Roth, has sold out in record time since entries opened this week. First to go were the 500 relay team slots which sold out in just 45 minutes. Within one hour, 1,000 individual entries had been taken with all 3,600 slots sold within 24 hours, the first time the race has filled within just one day.
"Challenge Roth has without doubt confirmed its place as Europe's leading iron distance race," said TEAMChallenge CEO, Felix Walchshöfer. "Where other long distance races have been slow to sell out, Challenge Roth has filled in record time which is testament to the quality of the event and the growing strength of the Challenge Family. What is also interesting is the international slots sold out before the German slots – this has never happened before!"
Triathletes who missed out will have a second chance on December 6 with the special Christmas charity draw. Registrations will reopen for a short time at 12 noon CET for both individuals and relay teams with part of the entry fee going to charity.
Challenge Roth is part of the global Challenge Family series of long distance triathlons featuring 13 races over three continents. For further information visit Challenge-roth.com.
Click here for Triathlete.com's complete coverage of the 2011 Challenge Roth Triathlon.