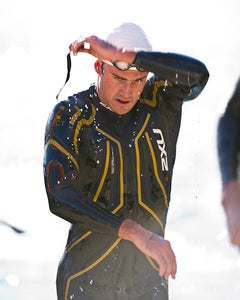 There's no late-night infomercial selling a tool that cleanly folds your wetsuit (so far), so follow these steps to keep creases out of your suit when traveling to a race.
Step 1: Lay the suit on its stomach and cross the arms over the back.

Step 2: Bring the legs over the back so the ankles rest on the shoulders.
Step 3: Fold the entire suit in half so the waist meets the shoulders.
Step 4: Slide the suit into a bag so it stays properly stowed in transit.
RELATED: How To Efficiently Put Your Wetsuit On And Take It Off
Dry It
When you're done swimming, pull the suit inside out and hang it on a hanger, preferably one with a wide rack, so the cloth liner on the inside of the suit is able to dry completely. Once the liner is dry, flip the suit back right-side-out and let the last few drops of water evaporate off the neoprene.
Store it
Once it's dry, leave the suit on the hanger to store it for your next swim rather than folding it so it doesn't crease.
Written by: Aaron Hersh