Wheel Energy's mechanical tire tests cut the guesswork from tire development.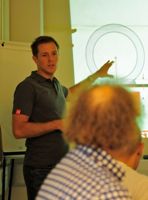 Specialized decided a couple years ago that its tire line needed to improve. The cycling industry titan based in Northern California produces a rainbow of products—frames, shoes, helmets and other accessories—that are widely considered to be among the best in the industry. But, according to Specialized, tire quality lagged.
To address this rare shortcoming, Specialized brought in Wolf Vorm Walde, a specialist with years of experience designing bike rubber, and charged the German tire maven with elevating tire quality to match the rest of their line.
PHOTOS: Behind The Scenes With Wheel Energy
One of Vorm Walde's first moves was to integrate unbiased, third party tire testing into the design and development process. Mechanical testing can be used to unequivocally quantify tire performance instead of relying on subjective analysis. To accomplish this goal, he turned to Wheel Energy (Wheelenergy.com), an ATV and bike tire testing company housed in a rectangular building in the Finnish countryside. Behind abandoned farm equipment and a pile of firewood, their facility houses several home-cooked machines that can measure the puncture resistance, rolling resistance and cornering grip of cycling tires.
One of the first things Specialized learned after sending its tires to Wheel Energy: Its then top-of-the-line tire rolled like a brick compared to premier tires from other makers. Specialized admits they had a lot of work to do to improve the quality of their race rubber, but Wheel Energy's tire tests provided Specialized with the tools to do so.