Ride Experience
We had the opportunity to conduct an extended ride test on the 2011 Felt DA and we were blown away with the ride experience it offers. Its bottom bracket is stiff when sprinting, but many tri bikes have that attribute. What separates the DA from most tri bikes is the rigidity of its front end.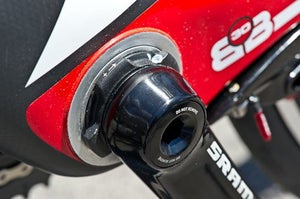 The Bayonet III system stiffens the front end in three ways. It buttresses the headtube with the extended segment in front of the head tube, replaces the steerer tube with a robust attachment piece and prevents the rider from propping their bars so high above the frame that the stack becomes flexible. The result: incredible cornering stability and predictability and a confidence-inspiring ride. The DA has agile handling characteristics, but the bike is unfailingly steady even when cornering aggressively.
The only catch: Only the DA frameset and DA1 are built with the same frame as the 2011 DA we tested. The DA2, DA3, DA4 and DA4W are built with a slightly lower-lever carbon layup and we haven't yet tested that frame. All those bikes do, however, have the same Bayonet III aerobar attachment system to bolster the front end.

Aaron Hersh is the Senior Tech Editor of Triathlete magazine. Follow him on Twitter @TriathleteTech.