The Bikes
The DA frame will be constructed with two different carbon layups—type of carbon used and the fiber orientation, which affects stiffness, strength and vibration transfer—in the identical shape.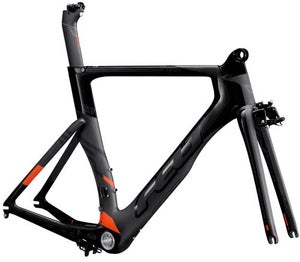 The higher-level frame is built with Felt's premier layup, which they call UHC + Nano MMC InsideOut Carbon, and will be sold as a complete bike called the DA1 or as a frameset. We conducted an extended road test on the 2011 DA built with this same layup, and it quickly became one of our favorite bikes for its incredible stiffness and handling precision. The DA1 ($12,999) is built with serious hardware. It comes with Shimano's transcendent Dura-Ace Di2 electronic drivetrain and Zipp 808 Tubular Firecrest race wheels, arguably the best components and wheels available. Felt even includes Enduro ceramic BB bearings. Felt specs their Devox Carbon aerobar, but don't write this bar off as a house-brand component included to cut costs. Not only is it light (595g), but it creates comfortable brake and aerobar grip positions, offers a wide range of extension length adjustment and 1.5cm of elbow pad stack adjustment in a sleek and lean package that uses minimal hardware. The bar can be flipped upside down to lift the brake lever grip position by 2cm for a more relaxed position out of the aerobars without altering the aero position.
The DA2 ($8,999) uses the exact same frame shape as the DA1 but Felt's 2nd-tier carbon layup. We haven't had the chance to ride this model to see if it matches up to the DA1's incredible ride experience, but its component kit is incredibly high-level. It uses Dura-Ace Di2 shifters and derailleurs along with a Vision TriMax carbon TT BB30 crank with standard 53/39 chainrings. The Zipp wheels are swapped from Reynolds / Felt TTR1 AWS carbon clincher race wheels. The set has a 66mm-deep rear wheel and a 46mm-deep front and is wrapped with brand new TTR1 tires designed by Felt to optimize the aerodynamic performance of their line of aero wheels.
The DA3 ($4,999) is equipped with Zipp VukaShift R2C shifters, SRAM Red derailleurs and aero chainrings. The drivetrain is completed with a SRAM S300 crank and SRAM cassette and chain. It rolls on Felt TTR2 wheels with carbon deep-section rims and an aluminum brake track strapped with Felt's TTR1 aerodynamic tires.
Although the pro-level bikes get most of the attention, the DA4 ($3,999) and DA4W ($3,999) are arguably the big story of the 2012 Felt tri bike lineup. They are built with the same frame as the DA2 and DA3, the same Bayonet III integrated aerobar attachment system as well as a mixed Shimano Dura-Ace component kit, but the DA4 bikes are starting to sniff the designation of "mid-priced" despite their bevy of decidedly high-end features.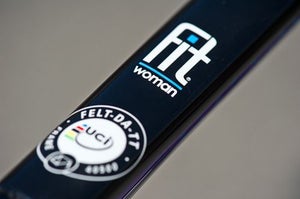 The DA4W, the women's specific model, has the same frame geometry as the gender-neutral DA4, but it comes with the Fizik Vitesse Miss Tri saddle and compact chainrings (50/34) to create an easy climbing gear. Its distinctive blue, pink and purple paint accents and blue and pink anodized water bottle bolts give the 4W a wild aesthetic that will never blend into the transition area.
Other than those details, the DA4 and DA4W are nearly identical. They are both built with Felt's Bayonet aerobar, use a Vision TriMax Pro crank with compact bolt circle and an FSA chain. They have Vision Metron Shifters instead of the standard rotating Shimano Dura-Ace levers that use a totally unique shifter motion and allow the rider to execute both up-and downshifts without adjusting hand position.
The components compare favorably with many bikes priced at the $3k level, but the DA4 and DA4W add the aerodynamic performance and outstanding ride experience that comes from the DA frame and Bayonet III system. Most other brands with bikes featuring an integrated front end don't offer a model under $6,000, much less $4,000.