The Fit
To bring the DA to more riders, Felt is introducing a range of six stem pieces and aerobar pad risers. These pieces in addition to the original rotating stem pieces that have been available in the past allow the DA to fit an incredible range of positions and riding styles.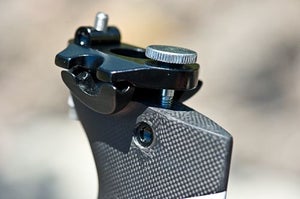 The rotating stem option creates a wide fit adjustment range equal to a stem 86mm long stems with between 1 degree and 38 degrees of rise and extending out to version roughly equal to 95mm, 110mm, 125mm and 140mm without any headset spacer. This system creates a massive range of adjustability for medium to long-reach aerobar positions. They cannot accommodate positions with very short reach values or positions with short reach and tall stack dimensions. Felt's new fit pieces completely remove this limitation entirely.
The one-piece stems come in familiar dimensions (such as 10cm with 30 degrees of rise) but this one-of-a-kind system creates a unique set of fit characteristics. In addition to mounting the aerobar, these stem pieces also replace the dust cap used to press against the upper headset bearing used on traditional stem and steerer tube systems and eliminate the option to use steerer tube spacers. We pulled out the trigonometric calculator and ran the numbers to equate Felt's stems to fit dimensions of more typical stem and steerer tube front ends.
Calculation conditions: Standard stem with a 4cm tall steerer tube clamp. Stem mounted on a 5mm headset dust cap without any other spacers, the lowest possible configuration. Head tube angle of 73 degrees. The Reach fit difference and Stack fit difference columns refer to the difference between the DA fixed position stem and the closest standard stem.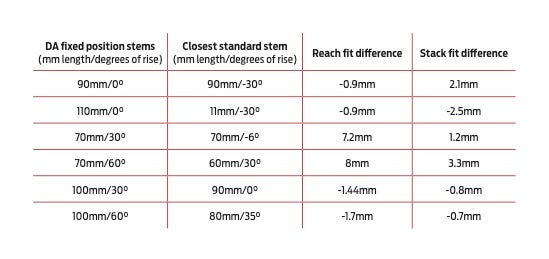 These pieces allow the DA to fit positions with a shorter reach value than the DA was previously able to attain. In addition to the stem options, Felt has created vertical risers compatible with the Devox and Bayonet aerobars that come spec'd as standard bars on the DA line. These risers allow the elbow pads and extensions to be propped above the base bar and complete the fit picture for the DA by enabling riders to select an aerobar position with a short horizontal reach dimension and a tall vertical stack dimension to the elbow pads.
With the addition of these stem pieces and aerobar pad risers, the DA is able to match an incredibly broad spectrum of fits without compromising the stiffness of the bike's front end. This combination of fit flexibility and stiffness allows the DA to perform at its incredibly high level for many riders that would struggle to fit most other tri bikes with integrated front ends. It represents a leap in performance not just for the athlete capable of riding a demanding position, but for riders needing a more conservative position as well.