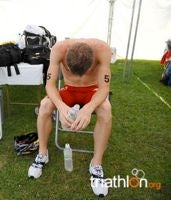 Being a professional triathlete is truly a dream job—but it's still a job.
Written by: Samantha McGlone
POLL: Do You Dream Of Being A Professional Triathlete?
Along with the latest gear and international travel come long, monotonous training days, painful injuries and lack of financial security. Some of the best things about being a pro? The opportunity to see places that I would never visit otherwise is high on the list: Ishigaki, Japan; Tasmania, Australia; Tiszaújváros, Hungary; Kansas—all off-the-beaten-path destinations with cool races and interesting people.
I think the highlight of this career is having the time and resources to pursue excellence in something I love to do and, hopefully, inspire others to do the same.
But it can be a double-edged sword. The sport is all encompassing—you are an athlete 24 hours a day, seven days a week. When your body is your career there's no leaving the office. Everything you do as a pro—train, eat, sleep and recover—has an impact on performance. A few bad workouts can leave you in a funk for days. This may seem extreme but sport is fickle—one bad season or a string of injuries can mean the difference between having a career and not. We are hesitant to do the fun stuff such as skiing, surfing or mountain biking even in the off-season, either for lack of energy or fear of injury. Going out on a Friday night is not an option when you have a six-hour workout the next morning. And while we get to travel to some amazing places, it's always on business—I have spent way too many taper days holed up in some generic hotel room when a sunny beach beckons just outside the window.
Being able to make a living by swimming, riding and running all day is the culmination of many years of hard work and a dream come true for every pro I know. I polled a cross section of professional triathletes; here are their ideas of the best and worst things about our job. (Ice cream was mentioned more than once, as were 5 a.m. swim practices.)