Monday's announcement of the new HITS Triathlon race series instantly introduced athletes to 12 new race options starting in December. The ambitious new series will give athletes their choice of five different distances, ranging from a shorter-than-a-sprint option to an iron-distance race, over the course of one weekend. With the first race weekend set to take place in Palm Springs in less than five months, we decided to talk to the series founder, Tom Struzzieri, to find out what the series is all about.

Triathlete.com: Why a weekend with all five race distances?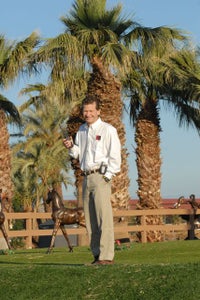 Struzzieri: I did a sprint race last night and had a great time. A couple of the athletes were asking me about the locations and the first question they would ask is what distances we'd have. I said, 'We have all of them!' If an athlete likes the town, then they can go. We want to have athletes come with their families and significant others and we want everyone to take part in the event. My wife can do the sprint, I'll do the Olympic or half and our kids can do the open race. We'll have less athletes in each race, but we save money on costs by accommodating different types of athletes. We think it's going to work. The proof will be in the pudding.

Triathlete.com: What is the open distance?
Struzzieri: On Saturday we'll do a sprint and Olympic race, and when those are done we'll do the open distance. We aren't going to charge for it and we think this will help bring more people into the sport. There are a lot of people who are intimidated by the swim and this will be doable for them. We know that it's by experience that you get hooked to the sport. Once you do one it gets you. I'm not sure why, but it's a special feeling. We're hoping this will bring more people to the sport.
Triathlete.com: What role has Dave Scott played in developing the series?
Struzzieri: We were lucky enough to convince Dave that our project is a good one. He's on board as a consultant and an advisor. Dave is ferociously involved in everything he does. He's a big part of the idea stream and he's going to help us out with some of the training ideas. He's an integral part of the series.
Triathlete.com: How you will create a unique experience for sprint and Ironman athletes?

Struzzieri: The courses are different. I think the experience is finding the perfect locations that are special. To me it starts with a great swim and we think we've done that with all 12 spots. We've also tried to make the long rides different than some of other longer rides out there. Rather than one 112-mile loop, you'll get to see the spectators more often. I think it will be a little unique. You may get two 13-mile loops instead of one big loop on the run. Our series is a little different in that we're not married to the distances that people consider typical. It might be longer or shorter than the usual depending on what works with the course.

Triathlete.com: Are you considering spectators in the design of the courses?
Struzzieri: The spectators are important to us. The family involvement is key. They'll be able to track the athletes. Letting spectators have something to do while their athletes are on the course is important. I've been to races where it's difficult to even find a cup of coffee. The goal is to make it a festival weekend and make it special for everyone.