Whitfield also talked a lot about the importance of nutrition and diet.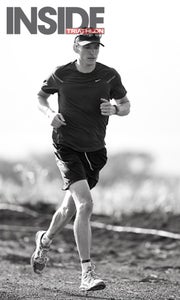 Whitfield: I try to eat really well—eat and not be flippant about my nutrition. To really not just say, "Oh, chocolate milk is fine." You know? Shrug, whatever is fine. I eat pizza—it's funny, ha ha.  You can get away with that for a certain amount of time. You can get away with that when you're 21. But you understand that you're getting away with it. It's not improving your performance. And so nutrition, realizing that it was so important and realizing that. We eat really well. We eat meat but we eat quality meat. We eat a lot of greens. It's not to say that I don't sneak in a Snickers bar here and there when I'm hungry. And I probably eat a little more processed food than I want to at times, through just the nature of being busy. But I really try to make sure that I'm very diligent about my nutrition. How much sugar I take in, and the quality of the food I take in.
During the interview, Whitfield spoke about what he learned from the 2004 Athens Olympics, where he placed a disappointing 11th.
Whitfield: Whereas with Athens it was just like, "Let's get this stupid thing over." It was awful—I mean, it was a great experience, but it was not a positive experience. I will say that I'm so glad I went through it, which is cliché, but I had to go through that experience. But we were just we were a wreck. You know, we were an absolute disaster. And I was just as to blame as anybody else was. I was not a good leader and not a good—I was a difficult person to coach, and I thought I knew more than I did. I was a classic 28-year-old smarter than I was, you know? And everybody, you know, most people go through that. And I was that guy.
During the interview Whitfield talked a lot about how lucky he was to have role models to look up to during his career, saying he has always been open to listening to others. He specifically talked a lot about Australia's Greg Bennett, who took Whitfield under his wing while Whitfield lived in Australia as a teenager, and New Zealand's Hamish Carter, who was the gold medalist in Athens.
Whitfield: I often find myself referencing Hamish [Carter]. Well, I want to do that like Hamish did, you know, because I really look up to Hamish, too. And I'm not afraid to say that. I really had great role models and great people to look up to and I still look up to them. I still call Benno [Greg Bennett] and ask him advice. And here we are—we'll have a pint together, but I'm still his little brother and we still argue, too. We still roll our eyes at each other, but I've had some great opportunities with those guys and to have Kyle to have that opportunity and to see that work ethic that a Kyle Jones has—it's fun to pass it along. [Editor's note: Kyle Jones is a Canadian training partner of Whitfield's who is about 10 years his junior.] … Kyle is also—he's an extraordinarily dedicated young guy. And if it weren't for him, I wouldn't be at the level I'm at now, either. He brings it. Look, the guy crashed, landed right on his head two days ago and he's out in the open water going as hard as he possibly can two days later. So he brings the work ethic that everyone else tries to live up to. … He's really receptive. He hasn't once pulled the "I know…I already…" You know? Athletes often [bristle] over, and they say, "I know what I'm doing." And I never did that with Greg. Even when I saw him, whenever it was, a couple of months ago, I didn't say to him, "I know…" When he's giving me advice I don't have the gall to say to him, "I'm 36, I know what I'm doing." I just listen.
Whitfield talked about what he'd like to do after he retires from racing. He believes he could coach age groupers and kids, but he would have a hard time coaching high performance athletes like himself.
Whitfield: Yeah I could coach that level [age group] too. I could do clinics and stuff for fun, but in terms of high performance Olympic sport, I would like to do it, but I don't think I could do it because I don't think I—unless someone was absolutely relentless in their pursuit of, I would be an absolute pain-in-the-ass coach. And they would not enjoy it, and I would not enjoy it. So I wouldn't do it. And athletes are few and far between. Like Benno [Greg Bennett] is relentless. [Alistair] Brownlee is relentless. [Javier] Gomez is relentless. Bevan [Docherty] is relentless. I mean, you spent time with him—he's relentless. He pursues high performance relentlessly. Kyle [Jones] pursues it relentlessly. Not a lot of guys do though. Like they think they do, but they don't. They don't even know what it means. So I would have a really hard time with the pretenders.