During the interview, Whitfield talked a lot about how he balances parenting with triathlon, something he did before the 2008 Beijing Olympics, where he won a silver medal despite the challenges of being a new dad leading up to the race.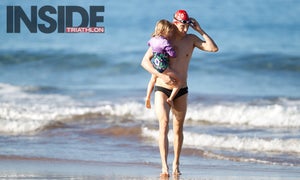 Whitfield: Routine is everything to us, so we just stay in a routine. I really have to emphasize to [the Canadian national team coaches] not to throw me for a loop, like changing one day to another. Like yesterday, for instance, it got flipped. And I can't do that—I can't say to [my wife] Jennie. She thought she had two hours for herself to go for a ride in the afternoon on Tuesday, so I can't flip Tuesday and Wednesday, so the other guys all did their workout on Tuesday and I did it on Wednesday. I just can't—I've learned because before when we first had Pippa [Whitfield's first of two daughters], I would have said to Jennie, "You know, I really need to do this." And she would have said, "Oh, absolutely, you're fine, don't worry about it." And then we would pay for it, you know, because it adds up.
Inside Triathlon: What do you attribute your longevity to?
Whitfield: Perspective. I maintained I think a very healthy perspective on it. And I don't quite know why I have that perspective but I've always had it.
Inside Triathlon: What's the perspective?
That it's about preparation. That winning, and medals and that stuff is an outcome. I understood outcome and process pretty early on. Like when I was a kid I understood it. My parents reinforced it without me even really knowing it. But I was never asked if I won. I was always asked, "Did I give a great effort?" And that really paid off because it taught me that everything was about the process and about the preparation I put in, and that the outcome was whatever it was, and that I would set a goal at the highest level. So I wanted to be an Olympic champion, and I'm very proud that I accomplished that. But really it was the process of getting there and the commitment it took to get there.
Perhaps Whitfield's greatest legacy to the sport is he started out as a fantastic runner who faked his way through the swim and bike but later became an all-around triathlete. During the interview, Whitfield spoke a lot about how he was able to go from a poor swimmer to one of the best in the sport with the help of his coach before the 2008 Beijing Olympics, Joel Filliol, as well as how he's attempting to improve his swimming today with the help of Canadian Olympic swimmer Rick Say. This past winter, Whitfield built a contraption that allows him to film his stroke so that he can study videos of what he's doing wrong.
Whitfield: Joel taught me the term "brute force." So you can either finesse it, or you can brute force it. But I truly believe you can't do both. You have to pick your poison. Either you're going to improve your swimming by brute force, which is the Sutto [Brett Sutton] method—you're going to just swim until you're a better swimmer, and that works, to an extent. Or, you're going to finesse it, which means you're going to relentlessly pursue improving your stroke. I used to think you could do it both ways, and then I learned that you couldn't. Then I tried to do the stroke [method], but we just didn't have resources or the people knowledge to do it. So it was a joke. So with Joel we just brute strengthed it. And we made it. I was first out of the water at worlds in Vancouver [in 2008], and that was one of the highlights of my career. And I was first out of the water in Kitzbühel [Austria] and that was one of the highlights of my career, because I didn't come from a swim background. But we did it through brute force. … I'm 35. I can't do that anymore. And it was also time to I enjoy the challenge of learning how to swim properly. I enjoyed the way Rick [Say] went about it. … So I bought the video camera. I built the swim cart. I edit all the videos. I watch all the videos. I'm f*&#ing Peyton Manning. He watches football. I watch swimming videos now. And I study. And so my swimming is improved. … So I watched the swim video, and then I would go back to the pool and I would say OK, I can see in my mind's eye what I was doing wrong. So now I know what I need to do. We video it. I change it. The whole time we're still swimming 5, 6K, but we would stop, like in the middle of a set. You've seen Rick on pool deck—he's got one arm up, two arms up. We would stop. If it's been too long in my stroke where my elbow has dropped, then he just stops me. So we're willing to stop in the middle of a 400 and make a correction. And it's paying off.