Canada's Simon Whitfield has a gold medal from the 2000 Sydney Olympics and a silver from the 2008 Beijing Olympics. He's currently in pursuit of his fourth Olympic berth and his third medal. Inside Triathlon editor-in-chief Courtney Baird recently traveled to Maui, where Whitfield was training with the Canadian national team, to catch up with him. Check out the most recent issue of Inside Triathlon, available here, for what Whitfield told us in terms of training tips, advice on how to be a good parent and triathlete, nutrition tips, favorite workouts, and other pieces of advice. Although Inside Triathlon would have liked to print Whitfield's entire interview, we just couldn't fit everything in. Here's part of what didn't make it into the magazine.
Inside Triathlon: What would you say to people who say you're in the twilight of your career?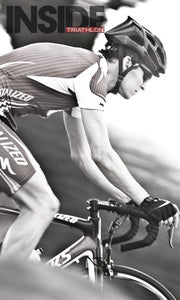 Whitfield: They're right. [Laughs.] There are certain advantages to it though. I have a certain balance and a certain perspective and I have a huge—I have sixteen years of training that they [younger triathletes on the circuit] don't have. That's the way I kind of look at it. I certainly have various challenges that they don't face. But that's the fun of being 21, 22, 23. But it's not like all those track sessions I've done for sixteen years are disappeared. I kind of see it as for every bit of youthful enthusiasm, and "ignorance is bliss," and "this wonderful opportunity" in front of them I have sixteen years of track workouts and long rides. I have more years between them and me then they have been doing it for.
Inside Triathlon: How many hours a week do you train?
Whitfield: We're between 25 and 30 hours, basically, if you call it honest hours, not like rounded up hours. Some weeks are in the low 20s and we'll try to get it up to around 30. I'm doing a better job now than ever before of logging it and monitoring it and keeping account of what I'm doing exactly. We run more than I ever have before, which I'm quite enjoying. The level just keeps going higher and higher. I mean, I would absolutely decimate the kid I was when I was 24. But the level just keeps getting higher and the Brownlees [Alistair and Jonathan of Great Britain] are the latest people to take that level up.
Inside Triathlon: What sorts of things do you do to recover?
Whitfield: We use different things. I used to ice in the ocean all the time. I don't do that as much as I used to. We use the NormaTec. We have one of those at home. In the season I get massages. My sister and I have a sleeping disorder that's my greatest weapon ever. My greatest gift that I was ever given was the ability to sleep anywhere, anyhow, and need so much less sleep than anybody else. … I think my sister and I definitely have some kind of sleeping disorder, and I actually think it's a benefit. Like, I would never want to solve it. The amount of REM I get in 5 hours it might take someone else 10 hours to get, and so I think that I'm able to recover back to back to back to back to back because I just get a very deep sleep, all joking aside.