Jesse Thomas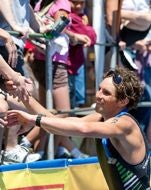 "Race-wheel it up. This is really the only thing I change for race day. If the course isn't crazy hilly, technical or windy, then I do a deep front and a disc rear. I ride a Rolf Prima TT85 and Rolf Prima Disc wheelset. If it is one of those challenging races (like Escape from Alcatraz), then I run a deep-dish wheel on both front and rear. Race wheels are awesome. They remind me of lacing up my spikes before a big track race. Fast, light, ready to go!
Set up your bike the day before the race. This not only saves you time on a busy race morning but it also helps you sleep better because you've got less stuff to think about before the race.
Bring the backups. Even as a pro, I bring a way to replace or at least fill a flatted tubular. If I ride with tubes, I take a tube and a CO2 cartridge. There's nothing worse than training for a race and not being able to finish because of some bad luck. If you get a flat, don't freak out. Just calmly replace it and then work your way back into it. You might be surprised—the little break could make you feel a lot better the rest of the race.
Raid the aid. I consume most of my calories on the bike through fluid and, despite my girlish figure, I'm a heavy sweater so I depend heavily on aid stations to provide me with water and calories. So instead of carrying crazy water bottle systems on my bike, I use 2-3 regular water bottle cages on my bike."
Jesse is the 2011 Avia Wildflower Long Course Triathlon champion. He has an MBA from the Warsaw Sports Marketing Center at the University of Oregon. Leapdaysports.com