Linsey Corbin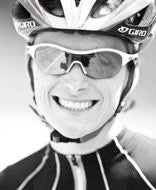 "I do many things that most racers consider unnecessary to minimize the number of things that can go wrong on race day. Here are a few of them.
• I like to take a mini razor with my spare tire when riding tubulars just in case the glue holds the tire too tightly on the rim and I can't get it off with my hands.
• I like to take an Allen wrench to my bike and go through and double-check all my nuts and bolts pre-race.
• When flying to a race, I generally only put in my bike box the bike. That way if my bike doesn't make it I have still have helmet, nutrition, shoes in either my carry-on or a suitcase, which leaves me with fewer replacements to track down before race day.
• Don't leave your nutrition bottles in the hotel fridge on race morning. Ooops!
• Make sure your brakes aren't rubbing. (OK, most people do this.)
• If traveling to a foreign country to race, make sure to pack plenty of race day/training nutrition that way you don't have to waste time searching high and low for your go-to products. [Editor's note: Triathlete.com content director Kurt Hoy brought Chrissie Wellington's favorite oats to IM South Africa after she forgot them at home and couldn't find them in Port Elizabeth.]
• I like to show up to transition with plenty of time to get in a nice warm-up followed up by some quiet time away from the crowds and nervous energy.
Linsey won Ironman Coeur d'Alene in 2010 and was fifth in Kona in 2008. Linseycorbin.com