Alicia Kaye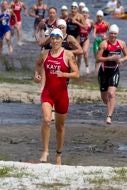 To mount your bike faster in T1, out your helmet on as your kick down the rest of your suit. As always, practice in training will help this go much faster on race day. Also, practice clipping and unclipping your helmet. Your fine motors skills are greatly reduced when your heart rate is so high after the swim. You can put your sunglasses on in transition or to save time you can tape them somewhere on your bike so you can put them on as you ride away from T1. Be sure to practice this because some aerohelmets make it difficult to put on a pair of sunglasses with one hand, unless you're so awesome that you can ride with no hands on your tri bike.
Rather than eating in transition, do it on the go! I tape my favorite gels to the top tube of my bike and rip them off as I need them.
For greater safety and faster transitions, learn to put on and take off your shoes while riding. This will prevent you from waddling around transition in your bike shoes. I try to always leave my bike shoes clipped before and after workouts to practice putting them on and taking them off while moving every time I ride.
Also, make sure you know where you are going in transition and understand the flow of the Swim In, Bike Out, Bike In and Run Out gates. Check out where the mount and dismount lines are. Walk through the swim exit and take some mental notes on where your bike is and how to find it fast.
Alicia is currently leading the Race to the Toyota Cup Lifetime Triathlon Series. Aliciakaye.blogspot.com.