Senior editor Jené Shaw recently drove across the U.S. to explore the thriving communities of triathletes in all parts of the country. If you ever plan to take a road trip, there are a few things she recommends for the drive: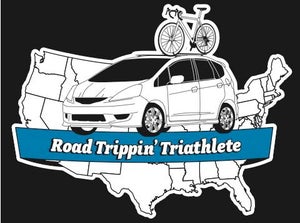 Download a lot of stuff. Audio books, podcasts and music mixes from friends passed time a lot faster than repetitive Top 40 radio.
Buy a small cooler. Don't be forced to choose between Arby's or IHOP. Whole Foods made for a good stop, where I could stock up on prepared salads, long-lasting fruits (grapes, apples) and sandwich fixings.
Bring a ball. Sit on it. A tennis ball, softball or Trigger Point ball will work. During those looong drives it saved my aggravated piriformis/sciatica.
Find a bike shop and/or tri club in the area. Jump on a workout in the city you're visiting—there's no better way to see a city. (Plus triathletes always have great local food recommendations!)
Use your car to stretch. My Honda Fit was the perfect tool for hip flexor drives: Put one leg up on the back bumper and lunge toward the car while reaching arms overhead.
Invest in a GPS navigation device. My Garmin Nüvi 3790T ($349.99, Buy.garmin.com) took the stress out of navigating and also helped to avoid traffic and find coffee along the way.