Nina Lovel: No Stopping this 58 Year Old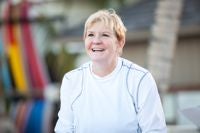 Fifty-eight-year-old Nina Lovel works as an informational manager for a college and is sedentary all day long. Growing up, she described herself as a "chubby little book worm" and more academic than athletic. But that had to change. So she took up tennis and kayaking, adding more activity into her daily life.
She had a friend who trained in a "Couch to 5K" program and felt inspired by the daily workout updates this friend posted on Facebook. "That got me all excited. So I started doing it," Lovel said. She distinctly remembers when she first ran a mile without walking and what an overwhelming sense of accomplishment she felt that day. But it was time to take the training to another level.
Lovel would read the health articles on CNN and one day came across an advertisement for the CNN Fit Nation Triathlon Challenge and applied, telling her work colleagues "I'm going to do this triathlon in New York…and they just rolled their eyes," she said.
Turns out Lovel was right and on August 7 of this year, she will be crossing the finish line to the Nautica New York City Triathlon. She is training with the CNN Fit Nation team and thoroughly enjoying the experience. "I can't believe all the nice people I've met. All the people at CNN want us to succeed. Everyone just wants us to succeed," said Lovel. Even her pastor is a cyclist and took her out on a training ride—her community has really been supportive of this goal.
And the benefits of the training are immense. "I've lost 22 pounds. I didn't know at my age you could change your body composition like I have. I'm down a few dress sizes and I had someone tell me I look fit. I hope it never goes away."
For Lovel, swimming was the easiest, as she was a lifeguard in college and always felt comfortable in the water. But biking was the most difficult to master. She had coordination issues with the clipless pedals and fell six times.
But she kept getting back up and soon will be biking on the N.Y. course.
Best piece of training advice received:
Listen to your body. It knows best. If you have pain, something is causing it.