Dr. Scott Zahn: Pediatrician Needed to Practice What He Preached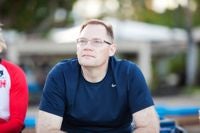 On November 10, 2010, Dr. Scott Zahn, 46, a pediatrician from Green Bay Wisc., visited his doctor for a check-up and was told he had high blood pressure and needed to lose weight. That very night he was on the CNN website and came across the CNN Fit Nation Triathlon Challenge, which precipitated the whole process of getting back into shape and practicing what he preaches to patients everyday—live a healthy lifestyle.
So he started working out and switching his usual fast food diet with whole fruits and vegetables. In very little time, he had lost 15 pounds before even being accepted into the CNN Fit Nation Triathlon team. Now he is deep into the triathlon training, exercising six days a week and is down 60 pounds, under 200 pounds for the first time in 20-25 years. Plus, he just went off the blood pressure medication.
Throughout the training, swimming has been his biggest challenge. "Just trying to breathe the right way has been hard, but I feel more comfortable in the pool now," he said. Dr. Zahn also described the other hardship: finding time to do it all. "Juggling my schedule has been hard. As the workouts have gotten longer, it's gotten harder. I have four children, ages 4, 9, 11 and 18, but it's coming together."
Dr. Zahn also spent time with the CNN Fit Nation Triathlon 6-Pack in Hawaii this past April and that really helped with the brick training and giving him his first open water swim experience. "It's tough to do all those transitions," he said.
But he has been enjoying the training and his changing lifestyle habits. "I still eat pizza, just not as much of it, or I have a salad with it." And despite his busier-than-ever life, he has more energy than ever.
Best piece of training advice received:
Have fun and enjoy the process.