Kendrick Henley: Back in Shape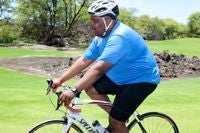 Kendrick Henley, 25, is a market researcher from Chicago who started gaining weight in college, as many undergraduates do. But in graduate school, the weight increased. Wanting to get back into shape and be held accountable for it, the CNN Fit Nation Triathlon Challenge was the perfect solution.
He thought the idea of a triathlon was very interesting. "I like the idea of doing three sports. I found that triathletes were very fit-looking people, very muscular, very toned, more so than really thin marathon runners. But I also see all shapes and sizes and all walks of life doing it. I found that all very interesting," said Henley.
So he took up the challenge of training for the Nautica New York City Triathlon this coming August, but has experienced plenty of difficulties along the way. In April, during a team training camp in Kona, Hawaii, Henley had a bike accident in which he lost control of his bike while cycling through the lava fields, fell off and hit a lava rock. A trip to the emergency room and two stitches later, he wasn't deterred from riding again. At the end of May, Henley was up to riding 30 miles and feels he has much better technique with road biking. He is surprised to have hit so many milestones in such a short period of time.
The ability to run has also been a process, moving from running on a treadmill to running outdoors—to simulate the racing experience. But Henley plans to keep giving the training everything he can. "My goal on race day is just to say I've done everything I could do to prepare for this event," he said.
Best piece of training advice received:
Accept your journey. You see people who can run faster and bike faster and find yourself getting discouraged. Accept where you are and make improvements from there.