Kas Seerla: Motherhood and Career Woman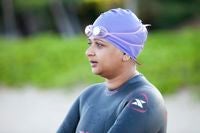 Kas Seerla, 34, grew up in India where sports were not for women. She moved to the U.S. for school, studying science and technology, leaving little time to be outside. She has since had two children, ages 21 months and 4 years, and focused her time on raising a family. But it was time to do something for herself, something she didn't have the chance to do for so many years: participate in athletics.
So she completed first 5K race and liked the idea of racing. "I was able to measure progress by time and not by numbers on a scale. I am going to the gym and not just doing a spin class for an hour. I'm building on something," Seerla said. One day the coach she was working with brought up triathlons, which got her intrigued. She always liked biking and swimming, so the three-disciplined sport sounded like not only an achievable goal, but something she could really enjoy.
Now she is a member of the CNN Fit Nation 6-Pack and training for the Nautica New York City Triathlon all the while balancing motherhood with long workouts. "It's been a challenge. I was a stay-at-home mom who never had babysitters. So I must plan a week ahead. If my husband is unavailable to watch the kids, I'll ask friends. If I can't find any friends, I'll ask babysitters. It's really just about planning and organizing," Seerla said. But this experience has changed motherhood for her, "I'd like to have my kids live an active lifestyle. Now I have the ability to coach them." She feels she can run better, swim better and is more aware of how to train for a race.
But it hasn't come without challenges. As with many triathletes, the open water swim was her "freak out experience." She explained, "I've had to learn 'comfortability' with sighting." But her experience in training with the team in Kona, Hawaii has eased that stress. And luckily, the endurance part has come naturally for her.
Best piece of training advice received:
Focus on the intention and not the goal, and the goal will be achieved.
Watch a profile about Seerla this Saturday and Sunday, July 9th and 10th, 2011 on CNN.