Stasia Cirricione: Youngest Member of the Team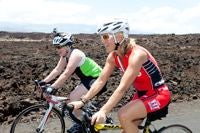 Stasia Cirricione, 23, had a Midwestern upbringing in a rural area, raised on sugar and fried foods. Growing up she never had a weight problem, but later in life a sedentary job caused weight gain. Desiring a change, she signed up for the CNN Fit Nation Triathlon Challenge. After acceptance, she learned she was the youngest member of the CNN Fit Nation 6-Pack team.
"I am the youngest by quite a bit and thought that would work to my advantage, but we are all a little competitive, which I don't mind at all," Cirricione said. And so far the experience has been "overwhelming," but in a good way. So far, she said, "CNN has rolled out the red carpet, from coaches to travel. We met with pros. CNN has gone above and beyond what is needed."
The group spent a week in April in Hawaii training with two-time Ironman world champion Tim DeBoom and multisport coach Laura Cozik. "Hawaii was amazing—getting to bike on the Queen K Highway and just have such a triathlete-rich environment," explained Cirricione.
The training has also changed the relationship with her husband. They have plans to participate in an Xterra race together and both spectated the Ironman Kansas 70.3.
The biggest surprise for Cirricione has been adapting her schedule to meet the needs of the training. "I come home and just want to sit on the couch, but can't."
But she'll keep juggling a full-time job, married life and triathlon training until she crosses the finish line—and from the sounds of it, for much longer.
Best piece of training advice received:
Take one day at a time.