Joaquin Brignoni: Young Father of Three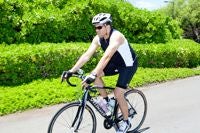 Joaquin Brignoni, 36, is a father of three young girls and leads a busy life balancing parenting, work and now, triathlon training.
So why a triathlon? He had never completed an endurance race previously, but reading Dr. Sanjay Gupta's article "The Journey," in which Dr. Gupta described the process of training for a major race, inspired him to apply for the CNN Fit Nation triathlon team. "I was at a time in my life where I needed a change. I wanted to eat better and set an example for my kids. I felt like training for a triathlon would be like preparing for that test at the end," said Brignoni.
And Brignoni is doing just that. After waking up at 4:30am to train, he arrives back home just in time to help his children get ready for the day, during which they ask about how far he ran or biked. "I think they are proud," he said.
But this level of training has not come without challenges. "Swimming has been the hardest. I've had to learn proper techniques, how to breathe bilaterally and build my confidence," he explained. But working on his core strength has eased his stroking ability. He is also finding it more mentally hard as the workouts get longer.
To prepare for Nautica, Brignoni recently participated in his first multi-sport race: a duathlon. "That really helped prepare me to adjust mentally to a racing environment. The race was quiet with open roads, probably the opposite of what New York will be," he said.
He also must deal with the heat and humidity, living in Winter Park, Fla. So he hydrates the night before, especially for the weekends when his workouts are generally later in the day.
Brignoni has experienced substantial changes to his life. "I've lost 20 pounds and I'm at a weight I feel comfortable with. I sleep better and have a boost of energy mentally. There is this sense of accomplishment early in the day, which transfers into a great day at work."
Best piece of training advice received:
Give it your personal best. Focus on that and you can't go wrong.