Belgium's Marino Vanhoenacker crushed the record for fastest Ironman by going 7:45:58 to take his sixth-straight Ironman Austria victory on Sunday, July 3. The former record of 7:50:27 was set by fellow Belgian Luc Van Lierde back in 1997. Triathlete.com chatted with Vanhoenacker after his record-breaking performance to find out how he felt heading into the race and the plan as he looks forward to the 2011 Ironman World Championship.
Triathlete.com: Was the record on your mind heading into the race?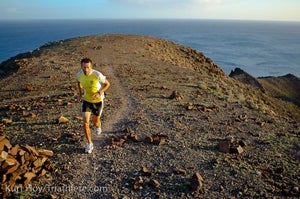 Vanhoenacker: Yes, it was hard not to think about, it. The week leading up to the race the media here was building up to something big. Nobody asked me about winning, the only question that came was: will you break the world record?
PHOTOS: Marino Vanhoenacker's Scott Plasma 3
Triathlete.com: Did you consider how fast of a marathon you'd need once you were done with the bike?
Vanhoenacker: I knew what times I needed long before the race started. We calculated everything after last year's race resulted in a time of 7:52:05.
Triathlete.com: Do you think one day you could go even faster on that course, or was it a perfect day?
Vanhoenacker: I believe everything came together. I was great, the atmosphere and audience was unbelievable and the weather, 12°C at the start and never warmer than 22°C, was ideal. So, it's going to be hard to match these things in the future.

PHOTOS: Ironman World Record Holder Marino Vanhoenacker

Triathlete.com: Now that you have the record and six-straight wins at Ironman Austria will you continue to return every year?
Vanhoenacker: After my first win I promised to come back as long as I win!
Triathlete.com: Why do you choose to race in multiple Ironmans leading up to Kona?
Vanhoenacker: I've been doing this for the last few years, and I believe it doesn't make me any slower in Kona.
Triathlete.com: Does this give you confidence going into your preparations for Kona?
Vanhoenacker: I feel great right know mentally, but I have to let this go now for a few weeks, mentally and physically. In three weeks time I start again towards Hawaii and then it doesn't matter how fast I was in the past. Oct. 8 is the next big day, not only for me.
Triathlete.com: How will you spend the next three months preparing for the Ironman World Championships?
Vanhoenacker: I go to Rio for the Military World Games from July 13th to the 26th (an Olympic-distance race) and then to a training camp in Las Playitas, Fuerteventura (Spain). Then I'll spend three weeks in Kona.

VIDEO: Marino Vanhoenacker's Nutrition Plan
Triathlete.com: What's it going to take to win in Kona?
Vanhoenacker: A super day for me and maybe some luck

Triathlete.com: What is the future of Team Commerzbank?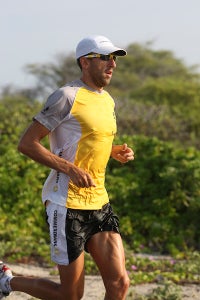 Vanhoenacker: There is no future Team Commerzbank. The contract will end this year and won't be prolonged. There is a chance that the team goes on in some kind of form, but with new sponsors. At the moment there is nothing concrete and I personally have everything open for the future.
More Related Articles:
– Vanhoenacker Breaks Ironman Record In Austria
– Video: Marino Vanhoenacker On His First Attempt At Abu Dhabi
– Ten Questions: Team Commerzbank's Marino Vanhoenacker