Spray, Swipe Or Slather?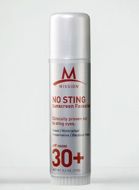 With hundreds of products promising to protect your skin, it's tough to choose which to go for. If that's not hard enough, you then have to pick whether you want it in a cream, stick, spray or a wipe. So which type of sunscreen is best for triathletes? "It's really up to the individual," says Nossa, who prefers the convenience of wipes (like Shady Day's Daily Sun Protection Wipes SPF 30) and sticks (try Mission Skincare Anti-Sting Sunscreen SPF 30+ Facestick, $8.99, Missionathletecare.com). "There's no mess, it's quick, and they're small enough to put in your gear bag and saddle bag," he says. Plus, the thicker texture of a stick sunblock is good for the face, since it won't run in your eyes once you start to sweat.
Friedman recommends mineral-based products, like Ultra Sport Stick ($16, Mdsolarsciences.com) by his own skincare company MDSolarSciences, which are less harsh on the sensitive skin on your face and around your eyes.
Spray-on sunscreens are just as convenient, says Dr. Brooke Jackson, a board-certified dermatologist and founder of the Skin Wellness Center of Chicago. "Sprays are so easy to apply, and the lighter texture is less likely to cause breakouts in those with acne-prone skin," she says. We like Kiss My Face SPF 50 Sport Clear Spray ($16.99, Kissmyface.com) and Kinesys SPF 30 Fragrance Free Sunscreen Spray.