From Macca to Mirinda, Chrissie to Crowie, it seems as though you're not a true triathlete without a tan. If you're lucky—or blessed with good genes—that perma-tan will leave few long-term effects on your skin. But for most people, chronic sun exposure eventually leads to premature wrinkles, lines and weathered skin. We gathered top experts to offer advice on keeping your skin safe—plus a roundup of the best protective products for triathletes.
Written by: Sarah Wassner Flynn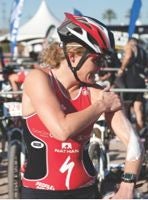 Here's the good news:
Participation in triathlon is hitting an all-time high. The bad news? So are rates of melanoma and other serious skin issues. Dr. Robert Nossa, the director of clinical research and laser services at The Dermatology Group of Northern New Jersey—and an Ironman triathlete—says that he has seen a direct correlation between the growth of endurance sports and patients with skin damage from chronic sun exposure.
"The irony is that I'm seeing more patients who are incredibly active and fit, and completely focused on their aerobic health," says Nossa. "But at the same time, there are more cases of people in their 30s and 40s with skin problems, like premature aging, basal cell carcinomas and sometimes melanoma. I attribute that to the movement toward endurance sports."
Of course, getting burned during a race can adversely affect your performance as you're more prone to becoming overheated and dehydrated. But there are simple steps to keeping your skin shielded from harmful rays, which all start with SPF.