On Sunday, German Faris Al-Sultan nabbed his fifth Ironman title in 8:13:50 at the Ironman European Championship in Frankfurt, Germany, which probably ranks as his second most prestigious win, after his 2005 Ironman World Championship victory. Triathlete.com caught up with Al-Sultan about winning in Frankfurt, his training leading up to the Ironman World Championship and, of course, his trademark Speedo.

Triathlete.com: Congrats on the win at the Ironman European Championships. How did it feel to win in your home country last weekend?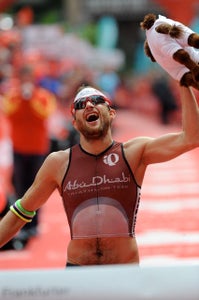 Al-Sultan: More emotional than I ever thought it could be after three bad races in Frankfurt. I had to cry after crossing the line.
Triathlete.com: How were you able to cope with the cold and rainy conditions?
Al-Sultan: I don't know. Even my own team wouldn't have bet on me. Warm thoughts probably helped.
Triathlete.com: Since you're known for your race attire, what kind of conditions would it take for you to not wear a Speedo the whole race?
Al-Sultan: In the U.S. the line "Don't try this at home" would have been very appropriate. The weather was OK in the morning, and I didn't believe that it would become that bad. It was not smart at all to be that underdressed.
Triathlete.com: As part of the Abu Dhabi Triathlon Team, how much of the year do you and your teammates actually spend training in Abu Dhabi? How do you support each other?
Al-Sultan: Personally I spend three to four months in Abu Dhabi and the plan for the entire team was to meet three times a year to train together for some weeks. But as all our athletes are from different areas, it did not work always. My opinion is that if we are teammates we should know each other, and it should work to be together for two or three weeks. These camps are important for me because you see what the others do and you can learn from [them] or you give them support to do things better.
Triathlete.com: You're now ranked fourth in the Kona Pro Rankings—how do you feel the KPR are positively or negatively affecting the starting lineup for Kona?
Al-Sultan: Generally I like the points system but the distribution of points and the amount of races that count need some changes. At the moment it doesn't really display the quality of the athletes. It definitely favors athletes that race a lot.
Triathlete.com: What will your training look like over the next few months in the lead-up to Kona?
Al-Sultan: The plan is to go in the next [few] days to St. Moritz for three weeks of altitude training. Beginning of September I will do another middle-distance race. The last weeks before Kona I will spend in Tucson, Ariz.