Tell us about your epic rides! This is our first installation of our Epic Rides series, starring you, Triathlete.com readers. Show us 10 or more photos of your ride along with a map or directions of the route along with your name and age group and your ride could get posted on Triathlete.com. Send them to ahersh@competitorgroup.com.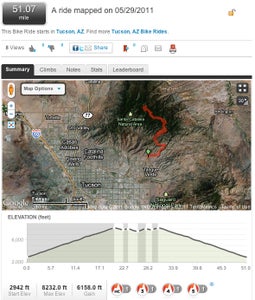 Location: Tucson, Arizona
Route: From the corner of N Mt. Lemmon Short Rd and Catalina Highway (aka E Mt. Lemmon Highway) to Mt. Lemmon Ski Valley and back
Total distance: 51 miles
Elevation gained: 6,158 feet
Road quality: 9 of 10
Map and elevation profile: Click Here
Written by: Aaron Hersh
Climbing from Tucson's scorching Saguaro decorated landscape up to the pine forest at the top of the mountain, the ride up and down Mt. Lemmon is only 51 miles, but its views and the challenge of summiting the peak make it an epic ride by almost any definition. The road gently twists and turns up the mountainside, following a steady 4 to 5% grade without any short, steep kicks. There is an ample shoulder the entire way up the mountain and road surface is amazingly smooth and well maintained.
The only water on the mountain between the base and the summit is at the Palisade Visitor Center approximately 18 miles up the hill, so make sure to bring plenty of water. The dry desert air sucks it away shockingly fast. Don't be caught without proper hydration.
After climbing up and up for 20 consecutive miles, the road switches from steady uphill to rolling hills and hovers around 8,000ft of elevation before ending at Mt. Lemmon Ski Valley.
Stop at the Mount Lemmon General Store at the top of the climb in Summerhaven for homemade fudge and typical gas station fare or at the Iron Door in Ski Valley for their famous pies.