Professional triathlete Ben Hoffman recently took the title at Ironman Boise 70.3 and swam in water at a frigid 50 degrees Fahrenheit.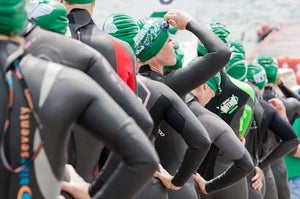 For those of you participating in races where the water is still cold and wetsuits mandatory (despite it being summer), Hoffman offers up these five tips:
1. Use two swim caps or a neoprene hoodie and booties.
2. Put Vaseline or its equivalent on the face to help insulate.
3. Practice swimming in the days leading up to the race to help you wrap your head around the challenge and realize you can do it.
4. Sometimes it makes a better sense to use stretchy cords or the like to do a dry land warm up.
5. Race morning make sure to get in the water and get over the capillary shock to the face, feet and hands before the start.