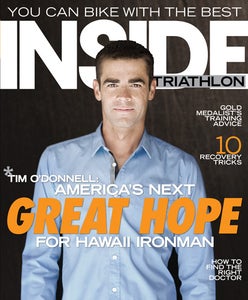 Inside Triathlon magazine's July/August issue features an exclusive profile of Tim O'Donnell, who recently made his Ironman debut with an 8:09:50 runner-up finish at Ironman Texas, behind Spain's Eneko Llanos. In the profile, Inside Triathlon explores what makes O'Donnell tick, and why he just may be America's best hope for winning Kona.
The July/August issue is also Inside Triathlon's special "Icons Issue." The idea for our "icons issue" came from Inside Triathlon's mission to educate our readers on cutting-edge training techniques, nutrition and racing tactics. No matter how you slice it, the pros and high-performance coaches are always going to be light-years ahead of everyone else—including, and perhaps especially, the scientists—when it comes to training and racing. They do what they do because it works. That's why we're excited to offer readers this special issue, packed with tips and tricks from three of triathlon's biggest icons: Simon Whitfield, the sport's greatest Olympian with a gold and silver Olympic medal; Conrad Stoltz, the sport's greatest off-road triathlete; and Torbjørn Sindballe, one of the sport's greatest cyclists.
Pick up Inside Triathlon magazine today to read all these stories and more, including a story on 10 recovery techniques that will improve your training, tips on how to find a doctor who understands how to treat an athlete, and insight into what went into the Abu Dhabi International Triathlon.
Follow Inside Triathlon on Twitter and Facebook!
Click the thumbnails below to learn more about the issue: