In addition to displaying this information during the swim, Swimsense records it along with distance and speed to review after a workout and track your progress.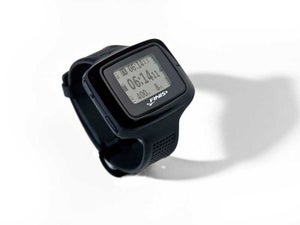 Even though nearly every triathlete can race faster by improving his or her swim stroke, technique often gets neglected during the most important part of a workout. Once the main set starts and your mind shifts to things like interval paces and distances, it's easy to let your stroke mechanics suffer.
Swimsense solves that problem. It monitors your technique during a swim for you and shows when your stroke is faltering. In addition to displaying this information during the swim, Swimsense records it along with distance and speed to review after a workout and track your progress.
How it works
Swimsense uses accelerometers—the same tiny gadgets that let an iPhone know its orientation—to measure stroke frequency and lap count. It plugs the data collected from the accelerometers into a series of formulas that spit out a ton of information about the swimmer's workout and technique. This information is displayed on the watch during the swim and can be uploaded to Swimsense Training Log, a free Web-based workout log.
What it monitors
Swimsense reveals when you are swimming efficiently and when your stroke is falling apart. When you hit the split button at the end of an interval, Swimsense displays two pieces of stroke data—you can select which ones. I like to use pace-per-hundred and yards-per-stoke. If my pace stays consistent but yards-per-stoke starts to creep up, I know that my technique is suffering, and soon my times will too. When this happens, I try to focus on my stroke instead of thrashing harder at the water to make the next interval.
Is it worth it?
Swimsense really does help a swimmer maintain technique and track long-term improvement. As long as your goggles aren't fogged, you can glance at your stroke data between intervals and correct your technique and effort level to make sure you hit your goal paces without compromising your technique.
It does, however, have a few shortcomings. The only real issue with the data recorded by Swimsense is its one-arm stroke count. Since the watch only monitors one arm, it cannot record an odd number of strokes and doesn't know if you add or remove one pull from a length of the pool. It measures distance perfectly every time. It occasionally, although rarely, confused my freestyle stroke for breaststroke. While this might be an issue for a swim racer who wants to record his or her workouts on a computer, I only used the watch while training freestyle, so this wasn't actually a problem.
Track your training
After uploading a workout to the Swimsense Training Log, all the stroke and pace data is clearly displayed and very easy to read. In addition to the pace from each interval, the "workout details" page has charts of stroke count, SWOLF score (a measure of stroke efficiency), pace, stroke rate and distance-per-stroke. A workout can be broken down into each individual length of the pool or can be viewed with every complete interval side by side. All these data might sound overwhelming, but the information is actually displayed quite intuitively and is easy to digest. Simplified, a low stroke count and high distance-per-stroke means you are swimming well. When those values start to go in the wrong direction, your stroke is suffering. In addition to info about your stroke, the "training log" is a record of your interval times that allows you to track your improvements in the pool more effectively than ever before. Swimsense is as useful to a swimmer as a power meter is to a cyclist. It is an indispensible tool for any swimmer interested in maximizing his or her technique and improvement in the pool.
What Swimsense can tell you
• Overall pace and time
• Type of stroke
• Distance-per-stroke
• Total stroke count
• Stroke rate
• Pace-per-100
• Distance swum