From the folks at Triathlete Europe comes this Gear Check.
The unorthadox looking ISM saddle needs no introduction to triathletes who have been embracing their comfort qualities for years now.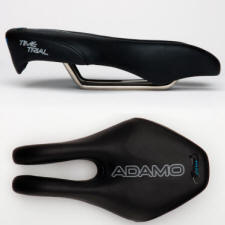 For 2011 ISM has launched their new 130mm wide and 245mm long TT specific saddle which has sloping 'arms' similar to their Breakaway and Podium models. These allow for a more aggressive ride position with increased hip rotation, which in turn decreases aerodynamic drag and opens the diaphragm for easier breathing. This more aggressive position can also help to increase wattage output too. Inside the cover of the ISM TT there's a mixture of lightweight foam and gel pads, and this combined with the sloping front 'arms' provide extra relief to the superficial perineal space which equates to comfort without numbness, pain or chaffing.
The only downer really is at 294g it's not uber light but if you suffer saddle pain it's a small trade-off. Despite its odd looks the TT is one of the comfiest saddles out there.
Performance: 9
Value: 8
ISM TT Saddle £139.99/$225 US
Multisportdistribution.co.uk