On Sunday, Sarah Groff of Hanover, N.H., became the first American woman to ever podium at an ITU Dextro Energy World Championship Series event by coming in third at the series' race in Kitzbühel, Austria. (To read the race report, click here.)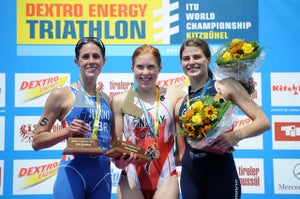 Getting a podium at a World Championship Series event is no easy task. To do so, you have to beat some of the best triathletes in the sport, including several women who are Olympians, Olympic medalists, world champions, and world championship medalists.
Indeed, to earn her podium spot Groff had to hold off two-time world champion and Olympic bronze medalist Emma Moffatt, who came in fourth.
Inside Triathlon magazine editor-in-chief Courtney Baird caught up with Groff recently to talk about the best result of her career so far.
Inside Triathlon: Congrats on your awesome race, Sarah. Can you give us a little insight into what went into your breakthrough performance?
Sarah Groff: Honestly, I'm not really sure what was different. I tried to stay process-oriented and to have fun. Once I was on the run, I had to put a bit of an effort into bridging up to the front group of girls, but once I was there, I was determined to hang on as long as possible. Going into the fourth lap, I realized that I couldn't keep up with Helen [Jenkins'] surge, but I could probably hang on to third place if I focused on holding the same pace and keeping my form intact.
Inside Triathlon: You were injured for most of last year. Could you let us know what happened and how you got through it?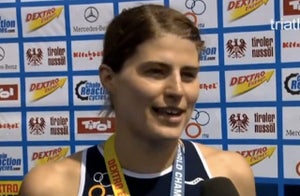 Sarah Groff: I fractured my sacrum last year in a bit of a freak accident and tried to race and train through it. It didn't heal completely and I re-fractured it in late November. My body was incredibly protective the second time around, and I was in serious pain for a while. I was forced to take 10 weeks off running and riding harder than a spin effort and had to essentially learn how to run again from scratch. Needless to say, 2010 was a really tough time for me. On the positive side, the injury forced me to learn patience, new skills and how to run more efficiently. Most importantly, I learned to be grateful for every day that I am able to do my sport without pain.
Inside Triathlon: Can you tell us a little bit about your coach, Darren Smith, and the group you train with in Switzerland and Australia?
Sarah Groff: My coach, Aussie Darren Smith, is one of the few independent ITU coaches in the world (i.e. he's not affiliated with a federation) and he has managed to collect quite a crop of international athletes. After badgering him for a few months, Darren agreed to take me on as an athlete in 2010 and we've gone through quite a bit together in the past 18 months. My training partners and I spend the winter and early spring months in Canberra, Australia, and, after a short stint at our respective homes, we reconvene in Davos, Switzerland, for the late spring and early summer. Since we spend so much time together, we've become a little family, complete with occasional drama. I'm fortunate to have found a smart, ITU-focused coach willing to put in the time to coach me—there were quite a few skills that I had never learned, and I can be a bit strong-minded—and a squad of really kind, talented athletes. We try to be there for one another; we all have our good times and our bad times, but we try to celebrate the small victories and are supportive when it gets tough.
Inside Triathlon: It looked like you were crying from happiness at the end of the race? Were you? Can you tell us a little bit about the emotions that went through you at the end of the race?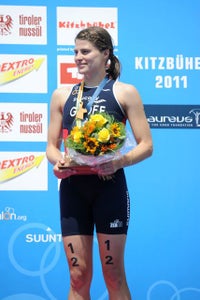 Sarah Groff: I was so overwhelmed that I did indeed shed a few tears. I've had to fight for years in this sport and this is the first big result that I've ever gotten. The rough times made the moment all the more poignant for me.
Inside Triathlon: How did your family react to your performance?
Sarah Groff: I think that there were some tears involved! As I was crossing the line, I was imagining my loved ones back in the U.S., watching me on the computer. I've really had to fight through some rough times and they've been there for me, supporting me unconditionally. They've been part of the process, so they understand what this result represents to me.
Inside Triathlon: Can you talk a little bit about just how difficult it is to get on the podium at a World Championship Series event?
Sarah Groff: Since there are relatively few events and we are trying to finish well in the overall rankings of the WCS, the fields of these events are very strong and deep. Combine that with the fact that athletes are fighting to get Olympic selection and you have the elements for some seriously fast racing. In order to get to the podium, you can't afford to make any big mistakes and have to race smart. There is definitely an element of luck involved, as well.
Inside Triathlon: Can you talk a little about your routine after races like this? Do you rest for a few days or go right into training?
Sarah Groff: I tend to take it easy for a few days, allowing my body to recover from the race and travel.
Inside Triathlon: What's next for you? Will you do Hamburg or are you going to skip that in preparation for London?
Sarah Groff: I will race Hamburg. I love that race and wouldn't want to miss it! I'm still trying to learn how to be a better racer, so we are trying to seize every opportunity to test my skills.
Inside Triathlon: Thanks Sarah! Best of luck this season!
To subscribe to Inside Triathlon magazine, click here. Follow Inside Triathlon on Facebook and Twitter.
See also:
– Sarah Groff Named USA TODAY's Olympic Athlete Of The Week