Colorado's Peak-to-Peak Highway bike ride is a popular route for triathlon celebrities such as Craig Alexander and Chrissie Wellington.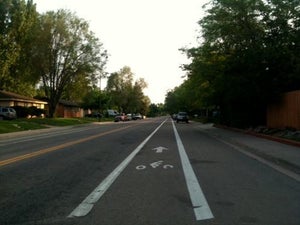 Epic Ride: Colorado's Peak-to-Peak Highway
Location: Boulder, Colorado
Total distance: 60 miles
Elevation gained: 5,075 feet
Road quality: 6 of 10
Map and elevation profile: http://www.mapmyride.com/routes/view/36555104
Written by: Geoffrey Nenninger
In Boulder, Colo., climbing to Ward is a feather in the cap of even the most fit cyclists and triathletes. Arriving in Ward from South St. Vrain Canyon and the town of Lyons is a challenging grind with a steady 4-5% grade that lasts for nearly 20 consecutive miles. The rewards for your efforts are the stunning views of rocky canyon walls in St. Vrain Canyon and snow-capped mountains on the Peak-to-Peak Highway. The road crosses 9,000 feet of elevation just before descending into Ward, so be ready for to ride hard. After working your way up into the mountains, you will get relief from the steady 17-mile descent back down toward Boulder. And keep your eyes out for triathlon celebrities such as Chrissie Wellington and Craig Alexander. Boulder plays home to many of the world's fastest pros and they frequent these roads.
Water and food are readily available in Lyons and Raymond, a tiny town along the way. If you are already in need of sustenance when in Lyons, you might be in for a long day, however the cafes along the main drag, including the Stone Cup, are hard to pass by without stopping. The Raymond Store in Raymond offers snacks and beverages if you're in need of a water bottle top-off. The Utica Street Market offers an eclectic mix of muffins and coffee, as well as the standard general store fare. Further up the road in Ward is a spigot from a well where you will often find locals and other cyclists quenching their thirst. Once you're back in Boulder, Amanté Coffee is a great place to reward yourself with a post-ride treat and discuss your epic ride with fellow athletes.
Route: From Central Boulder take Folsom Street North to US 36. Proceed North on US 36, turning left on Ute Highway (66) through Lyons, Colorado. Just past Lyons turn Left on South St. Vrain Drive (7), beginning the climb toward Raymond and Ward. After about 13 miles of the gentle climb up the canyon, turn left toward Riverside and Raymond on Riverside Drive. Proceed through the town of Raymond, bearing left to continue on Riverside Drive toward the Peak to Peak Highway (72). When Riverside Drive comes to an end, turn left and continue on the Peak to Peak Highway as it climbs to Ward. Just before Ward, turn left on Utica Street and continue through the town of Ward, descending toward Boulder as the road turns into Lefthand Canyon Drive. Continue until a right hand turn on Olde Stage Road for one more short bout of climbing, or alternately continue the descent all the way back to US 36, making a right hand turn to arrive back in Boulder.