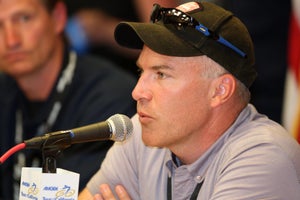 The World Triathlon Corp., owner of the Ironman, Ironman 70.3 and 5150 triathlon brands, has named Andrew Messick, former president of AEG Sports, its new chief executive. In the endurance sports world, Messick is probably best known for AEG Sports' Amgen Tour of California and Zazzle Bay to Breakers franchises.
Triathlete.com took some time to speak with Messick about what's ahead for the WTC and what his appointment will mean for the average triathlete.
Triathlete.com: What made you decide to accept the chief executive position at the WTC?
Andrew Messick: In the endurance participation sports world, the Ironman brand really represents the gold standard. It's extraordinarily powerful in terms of performance and achievement, and the opportunity to help the Ironman brand and WTC continue to grow and succeed was very difficult to turn down.
Triathlete.com You used to be president of AEG Sports, which owns a variety of major facilities, such as the Home Depot Center, Staples Center, as well as major sports franchises including the Los Angeles Kings, Manchester Monarchs, Reading Royals, Houston Dynamo, Los Angeles Galaxy, the Amgen Tour of California and Bay to Breakers. WTC by comparison handles a very niche sport, triathlon. What attracted you to the sport?
AM: I've done a number of Ironman events and been a serious triathlete for a number of years. I also spent number of years in cycling world. In terms of the participation sports world, which is a very robust sector everywhere in the world, the Ironman brand and triathlon in general are growing rapidly and are very healthy right now.
Triathlete.com: What do you see in terms of the growth potential of triathlon in comparison to running, which is the most participated in endurance sport right now?
AM: Well, you know, I think close to half a million Americans finished a marathon last year. Substantially fewer finished a triathlon—USA Triathlon has 125,000 members or somewhere in that range. There are more people who run than do triathlons and I think there always will be because running is fundamentally simple. But there are more and more people who are looking for the unique challenge that triathlons bring, and the triathlon section of the endurance sport market is going to continue to grow, and the role of Ironman is to help the growth of longer distance triathlon and even Olympic distance triathlon.
Triathlete.com: Speaking of Olympic distance triathlon, the WTC ventured into the Olympic-distance space for the first time last year with its 5150 series. What do you see in terms of the growth of WTC and the Olympic-distance triathlon?
AM: Well, the 5150 series is just getting started and this is its first year, and based on what I've seen and heard, the series has great promise. The 5150 series combines the most prestigious and best international-distance triathlons in the United States, such as St. Anthony's and New York City triathlons. These are iconic events in the international-distance triathlon world. I think we're going to continue to be very excited about the prospect of shorter distance triathlon and we'll continue to put resources behind 5150.
Triathlete.com: Now that you are taking over the role of chief executive, how is this going to affect the average triathlete—Mr. Joe Triathlete, so to speak?
AM: The events that WTC has are great events. The Ironman and 70.3 events are, by and large, really appreciated by athletes—the athletes have good experiences participating in them. I think that part of what we're going to do is we're going to look carefully and see if there are ways that we can continue to improve the experience athletes have at every distance. I think that's important to continue to have success—always looking for ways to continue to improve the athlete experience and continue to find ways to capture the imagination of triathletes and other endurance athletes and bring them into the triathlon community. That will certainly be an emphasis of mine.
Triathlete.com: What is the role of the WTC in terms of the expansion of triathlon in general?
AM: Bringing more people into the sport. For WTC and USA Triathlon, having a rising tide of participation in triathlon events is going to help everyone. This is an area of common ground among athletes, race organizers, governing bodies and private companies. We'll continue to look for ways to continue to attract people into our sport—that's something that will continue to be an emphasis in our industry.
Triathlete.com: Can you talk a little about your athletic background?
AM: I've done two ultra-distance ironman events. I qualified for the Ironman World Championship 70.3 and raced in Clearwater. I've done lots of triathlons. I love the multisport life. I'm an avid cyclist and a runner and swimmer. I'm looking forward to having a broader focus because I have been cycling-focused these last few years.
Triathlete.com: How is your experience with Bay to Breakers and the Amgen Tour of California going to help you as you transition over to the WTC?
AM: I understand event organization. I understand the sales and the commercial aspects of participation in endurance sports. And coming from AEG, which is a very sales-oriented organization, I have a pretty good sense of how to find ways to bring organizations and people together and capture their imagination and get them involved in our sport. Those will all be areas of emphasis for me in the weeks and months ahead.
Triathlete.com: What do you see as the biggest challenge to the expansion of the WTC and triathlon in general?
AM: It's a little early to say right now. Ask me after I've been there a couple of months and have more details on the opportunities that I should be pursuing.
Triathlete.com: Is there anything you wanted to add?
AM: Nope—just that I'm very much looking forward to helping WTC continue to be the gold standard in our industry.