The professional field is stacked for the Rev3 Knoxville race held on May 15, 2011. Here are a few quotes from the pro Q&A.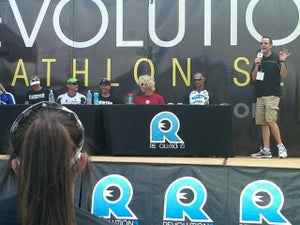 Dealing with adversity
Magali Tisseyre: I slipped over a railroad track this morning and I'll just have to wait and see how my muscles do for tomorrow. The best thing is to stay positive.
Family
Tisseyre: My mom is always there for me and comes to a lot of my races.
Matty Reed: My family is getting a little into biking, so I have that tag along thing going
Trash talking
Julie Dibens: I expect Leanda to be pretty fast and no excuses from her.
Cameron Dye: My friendship with Matty goes up and down based on how we are racing and training. We're still friends now, but we'll see how tomorrow goes.
Reed: Even though I'm his (Dye) friend, I still want to beat him. I'd love to defend my title from last year. It's a pretty good field.
Redlining
Richie Cunningham: I redline the whole way. I can't give up any seconds. If you give up 10 seconds, you spend the rest of the race chasing. If you don't redline, you don't have a chance to win it.
Tisseyre: For me, redline is based on perceived exertion.
Dye: In a sprint, it's anaerobic. Olympic is based on perceived exertion. If you don't finish a race with everything you had, you're not going to win.
Nutrition
Dye: Pre-race nutrition is most important
Tisseyre: Caffeine is a good thing, for me at least
Weather
Dye: With rain, hammer everything but the corners