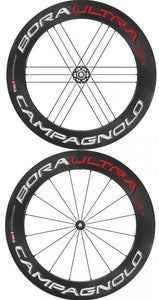 To accompany its new time trial/triathlon shifters, brakes and cranks, Campagnolo is introducing a new, deeper, more aerodynamic wheelset: the Bora Ultra 80. After lagging behind on the aerodynamic front the last couple of years due to a single-minded focus on creating a full line of 11-speed groups, the Italian component maker will enter 2012 with a full line of equipment for riding against the clock.
The new Bora Ultras have an 80mm-deep rim for tubular tires, having been designed for low weight as well as optimal aerodynamics and wind tunnel tested throughout the prototype phases.
The front wheel has 16 radially-laced, aero-section quad butted stainless steel spokes varying from 2.2mm to 2.1mm to 1.6mm to 2mm in thickness. The rear wheel has 21 of similar spokes that are slightly thinner at their thinnest point – 1.5mm.
The rear spokes are laced seven on the non-drive side and 14 on the drive side in Campagnolo's G3 spoking pattern. Campagnolo's spoke anti-rotation system keeps the aero profile slicing through the air, rather than turning the flat side against it after truing.
Bora Ultra 80s are equipped with CULT-technology ceramic ball bearing.
Bora Ultra 80 wheels have a carbon hub and an oversize aluminum flange. The wheelset's svelte 1540 gram/pair weight (715g front, 825g rear) is quite low for such a deep wheelset.
The Bora Ultra 80 is designed to be paired in both function and appearance with 50mm-deep Bora wheels. A Bora Ultra Two 50 wheel on the front with a Bora Ultra 80 on the rear yields a paired weight of just 1390 grams.
Like their 50mm equivalents, Bora Ultra 80s are equipped with CULT-technology ceramic ball bearings running on super-smooth CronitectTM steel cups and cones. Campagnolo claims the CULT-equipped hubs to be nine times smoother than traditional steel-ball-bearing hubs.
The balls and bearings are to be lubricated only with oil rather than grease, yet longevity is ensured by a special bearing surface treatment that prevents oxidation and maintains performance over time.
The new Bora Ultra 80 has been dynamically balanced during manufacturing without adding weights or magnet afterwards; the rim layup is adjusted to be in perfect balance when spinning.
Campagnolo is offering its new 2012 Dark Label color option for the Bora Ultra 80, Bora Ultra Two 50 and Bora One.