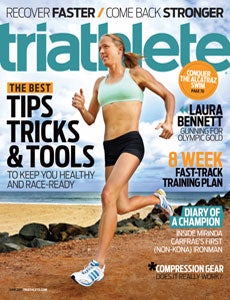 The June issue of Triathlete deals with all things recovery, to get you back on the starting line faster—and stronger. From ageless Olympian Laura Bennett to our lengthy look into compression apparel, we cover the rigors of triathlon—and the best ways to bounce back—top to bottom.
Also inside is Mirinda Carfrae's first-person account of her second-place finish in Ironman New Zealand, and the week leading up to the race; high-level bike reviews by senior tech editor Aaron Hersh; a latecomer's training plan for triathletes starting the season a little late; a comprehensive plan for race recovery and the latest therapies; an inside look at a new, revolutionary approach to physical therapy; and profiles of five triathletes who've overcome serious injuries and illness to compete.
And don't miss our monthly tips on training, gear, nutrition and more for all things swim/bike/run.
The issue hits newsstands May 10.
Click here to subscribe to Triathlete magazine. Also, follow Triathlete on Twitter and Facebook!
Click the thumbnails below to explore some of the pages in this issue: