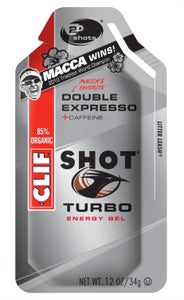 After becoming the first Ironman World Champion to be featured on a Wheaties box, Australia's Chris "Macca" McCormack, a two-time Ironman world champion, now has his own energy gel.
You can see Macca's face on the packaging of his favorite energy gel, Clif Shot's Double Expresso flavor. With 100 mg of caffeine, plus carbohydrates from maltodextrin and organic evaporated cane juice, Clif Shot is designed to deliver lasting energy with in five minutes. Clif Shot is the only leading energy gel made with 85-95 percent organic ingredients.
It's on shelves now in limited quantities for $1.29 anywhere Clif Shot is sold. It will be more widely available starting in mid-May.