Updated: Video interview with Daniel at Ironman SA.
Daniel Fontana has had an impressive triathlon career and is making his mark in the sport. Inside Triathlon senior editor Jennifer Purdie chatted with him about his upcoming races and what his training grounds are like.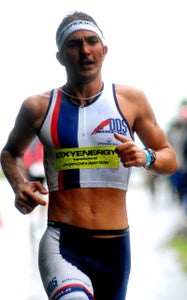 Born and raised in Argentina, Daniel Fontana began his triathlon career racing in South America. However, part way through his professional career, Fontana relocated to Italy and became a naturalized citizen to take his athletic abilities to the next level.  He represented Italy at two Olympics games and is currently training for Ironman South Africa. He races for Dimensione Dello Sport, an Italian professional triathlon team, for which he competes in draft-legal triathlons and sprint through middle distances as an individual. His current sponsors are DDS triathlon team of Milan, Xterra Wetsuits, Hersh Bikes, Brooks Running and Stella Azzurra wheels.
Triathlete.com: Congrats on a podium finish at the Pucon 70.3. How was your first race of the year?
Fontana: Thanks! My first race in the hot Patagonian summer was freezing and rainy…but what's better than to begin the year winning?
Triathlete.com:  You have Ironman South Africa coming up. You placed third in that event last year. What goals do you have for that race this year?
Fontana: My goal for this year is to get confident with the distance.  Last year I went seven hours with the best athletes.  Maybe this year I will be able to hold the entire race with the best.  I raced in two Olympic Games, so I believe that I have that final speed if needed.
Triathlete.com: What did a typical training week look like for you at the peak of your Ironman training?
Fontana: I did a lot of specific training for this race, a lot of kilometers at race speed, bike-to-running workouts and motor pacing.
Triathlete.com: How are the racing conditions in South Africa?
Fontana: South Africa is quite similar to Argentina. (Editor's note: Fontana returns to Argentina towards the end of the year, each year, to train for a number of months in Patagonia.)  Where I was born, the weather could be hot, cold, windy, dry or rainy. The sea is wavy and the asphalt is not perfect. You can see that it's challenging. So in South Africa, I felt very good last year.

Triathlete.com: What other goals have you set for yourself in 2011 and beyond?
Fontana: I want to win an Ironman race this year. With that, I could finish my career very satisfied to say I did all the distances and won in every one. I am not ready to retire, it's only to say that this would satisfy a big accomplishment. To have a perfect race in Kona is a dream for all of us.
Triathlete.com: You have raced for Italy in two Olympics. Can you give a brief description of what those Olympic experiences, Athens and Beijing, were like?
Fontana: In both races, Athens and Beijing, I did not arrive in the best condition and the results reflected that. But to take part in an Olympic Games was forever my childhood dream.
Triathlete.com: What's the triathlon scene like in Italy and Argentina?
Fontana: In Italy, we have 15,000 members of the federation, a lot of beautiful races and some strong athletes. In Argentina, there are some cornerstone races like Mar del Plata and La Paz, but there are some disappointing troubles to raise young athletes—there are problems in the Olympic development scene.
Triathlete.com: How do you like to spend what little free time you have?
Fontana: In my spare time, I coach the DDS team age groupers; sometimes I'm asked to do some commercials. Both are rewarding.
Fontana's Resume:
Champion – 2011 Ironman 70.3 Pucon (CHL)
Champion – 2010 Mergozzo International Triathlon (70.3-distance) (ITA)
3rd Place Overall (8:33.48) – 2010 Ironman South Africa (RSA)
Vice-Champion (runner-up/2nd Overall) – 2009 Ironman 70.3 World Championships (USA)
2008 Beijing Summer Olympics – Triathlon (CHN)
2007 Italian National Champion
Champion – 2005 Ironman 70.3 Pucon (CHL)
2005 Italian National Champion
2004 Athens Summer Olympics – Triathlon (GRE)
2004 Italian National Champion
Multiple-time Argentinean Champion
[sig:JenniferPurdie]