In town for this weekend's Ironman 70.3 California triathlon? Just because the race doesn't allow you to practice on the swim course doesn't mean you can't find a great place to squeeze in a practice swim. With its ideal location and weather, San Diego offers plenty of opportunities for open-water swim training. Just make sure to grab your wetsuit! The following are a few of the local favorites.
The Cove at La Jolla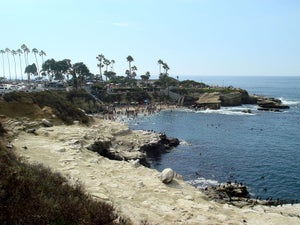 The small beach is tucked behind sandstone cliffs and remains one of the most popular swimming spots in southern California—and also one of the most visually breathtaking. Lifeguards are on duty daily throughout the year and showers are available at the Scripps Park behind the Cove. Public parking can be hard to find, which is this location's main disadvantage. If you are interested in group swims, check out the La Jolla Cove Swim Club. Lajollacoveswimclub.org
Glorietta Bay Park
Head further south to Coronado to swim at Glorietta Bay. The park offers a little more than two acres located between the Municipal Pool and Naval Amphibious Base. End your workout with a picnic at the park or head out to eat at the one of the downtown shops just a few blocks away.
Fletcher Cove
For those up north, Fletcher Cove in Solana Beach offers seclusion and copious amounts of sand. Triathletes looking for a brick-training session can take a swim through the cove and end with a nice run along the beach, all the while enjoying the views of the Pacific.
Tamarack Beach
In Carlsbad, Tamarack Beach is perfect for a swim session. The beach, also known as Carlsbad State Beach, stretches from the warm water jetties, just south of Tamarack Avenue, to Frazee Beach, near Carlsbad Village Drive. Athletes should also bring their running shoes and head to The Carlsbad Seawall, a paved 4-mile walking path for a quick brick workout.
Mission Bay
For those a little more timid with open water, Mission Bay offers calmer and more contained waters. However, it isn't as popular due to its murkiness. But newbies appreciate the safety of the locale.
Oceanside Pier
The closest you can get to the swim course of the Rohto Ironman 70.3, the north and south side of Oceanside Pier is a well-liked location among the hardcore swimmers. The beach area south of the pier is Oceanside's most popular and you will find plenty of surfers and body boarders to keep you company. The north side of the pier has much more sand and offers more space. So if you are looking for a quieter swimming experience, this is for you. Those interested in swimming on a regular basis at Oceanside should check out of the Oceanside Swim Club. Oceansideswimclub.com