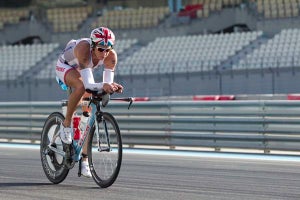 In a day of heat, wind and carnage, Frederik Van Lierde of Belgium won the men's race and Julie Dibens of Great Britain defended her title in the women's race of the second annual Abu Dhabi International Triathlon on Saturday, March 12, 2011. Click here to see photos from the race.
The day started off in predawn darkness with the pros jumping into the water 20 minutes later than expected.
Sylvain Sudrie of France was the first out of the water, but he had a poor transition and was beat out onto the roads by several men in the field.
Reigning Ironman world champion Chris McCormack of Australia had a relatively poor swim and started the bike well back from the leaders.
The Macca vs. Crowie showdown that many were hoping for today never came to fruition, as Macca remained behind Crowie for the entire time they were both out on the bike course—and that time was relatively brief, as Macca pulled out about midway through the bike leg, later Tweeting that he lost his cleat and could no longer cycle.
Denmark's Rasmus Henning, one of the pre-race favorites, also pulled out of the race today—after the swim and just as he was running out of T1, he pulled up in obvious pain. He later Tweeted that he had severe cramps and couldn't bend his leg.
As he did last year, Bjorn Andersson rolled out of T1 and began hammering the bike, followed closely behind Bryan Rhodes, Martin Jensen, Stephen Bayliss, and Luke McKenzie.
But Andersson also ended up as one of the race's casualties and pulled out before he finished his bike.
American Andrew Starykowicz took over the bike lead after Andersson pulled out and was first into transition.
But Starykowicz couldn't hold onto his lead. After Frederick Van Lierde, Marino Vanhoenacker, Dirk Bockel and Raynard Tissink each made his way onto the run course, they all started making up significant time.
All four men finished within 33 seconds of each other, with Van Lierde coming in first, Vanhoenacker coming second, Bockel coming third, and Tissink coming fourth.
Starykowicz ended up coming in 10th.
Australia's Craig Alexander placed sixth, 3:32 behind Van Lierde. He was visibly limping at the finish line.
In the women's race, Julie Dibens and Leanda Cave swam side by side almost the entire swim and pulled out of transition in unison.
But Dibens quickly established her dominance on the bike and pulled away from Cave.
Cave remained in second place for a good part of the bike leg, but she couldn't hold off Swiss Miss Caroline Steffen of Team TBB.
As is typical of Dibens, she was first into T2, coming in 8:38 ahead of Caroline Steffen.
While Steffen began to eat into Dibens' lead during the run, she couldn't make up all the time. She finished in second, 5:22 behind last year's champion.
Cave faded badly on the run and was eventually caught by Catriona Morrison of Great Britain, Rachel Joyce of Great Britain and Angela Naeth of Canada. Cave finished sixth.
Men's Race Results
1          F. Van Lierde (BEL)   6:43:14
2          M. Vanhoenacker (BEL)       +0:17
3          D. Bockel (LUX)         +0:28
4          R. Tissink (ZAF)         +0:33
5          S. Sudrie (FRA)          +2:35
Women's Race Results
1          J. Dibens (GBR)          7:14:23
2          C. Steffen (CHE)        +5:22
3          C. Morrison (GBR)     +16:49
4          R. Joyce (GBR)            +17:46
5          A. Naeth (CAN)          +18:11