Olympic hopeful Matt Chrabot has signed a multi-year deal with TYR. TYR also represents professional triathletes Chrissie Wellington, Andy Potts, Magali Tisseyre, Sarah Haskins, TJ Tollakson and others. Click here to learn more about Chrabot.
See the complete press release below.
2010 Miami International Triathlon Champion Matt Chrabot has signed a multi-year endorsement deal with TYR Sport Inc.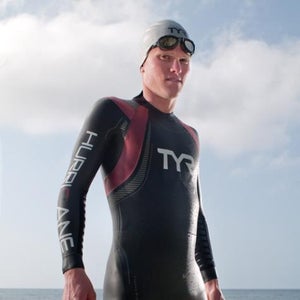 TYR Sport Inc. will be Chrabot's primary competitive apparel and swimwear sponsor through the next Olympic Games in London. TYR's experience and unsurpassed technology in the popular sport of triathlon will supply critical product support to Chrabot, who is training to make his first Olympic Team. Chrabot joins an elite group of talented athletes sponsored by TYR, who plans to make Chrabot the new face of their Olympic marketing campaign.
"I'm very excited to be part of the TYR family," stated Chrabot, a resident athlete at the Olympic Training Center in Colorado Springs. "TYR has been around since I started swimming as a young athlete in the 1980's and I've always been impressed with their suits and performance technology. I am fortunate to have TYR's support leading up to the London 2012 Olympic Games."
Ending his 2010 season ranked No.1 in the U.S. and No.12 in the world, Chrabot, 27, established himself as the American man to beat for a 2012 Olympic berth. Chrabot earned two top 10 finishes at World Championship Series events, won his second Pan American Championships title and was the Miami International champion, a title he hopes to defend later this month. Chrabot is gearing up for the first Olympic qualifier, taking place this August at the World Championship Series stop in London.
"We are very happy to have formed a long-term relationship with an athlete of such high caliber as Matt Chrabot." stated Ryan Dolan, Vice President of Sales for TYR Sport Inc.. "Matt is well-known for his work ethic and willingness to do what it takes to be the best and win races. We look forward to our push to London 2012 with Matt and USAT."
Chrabot, who is represented by global sports and entertainment marketing leader Octagon, recently finalized endorsement deals with Shimano, PowerBar, Dz-nuts and Yurbuds and is also sponsored by Blue Cycles and Rudy Project.