Follow Triathlete magazine senior editor Jené Shaw as she drives cross-country in search of cool triathletes and interesting triathlon-related stuff throughout the nation. Click here to read past Road Trippin' Triathlete articles.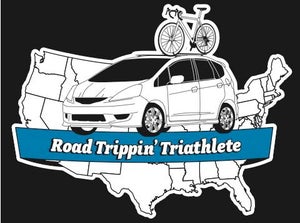 I drove from D.C. to Columbus to meet with the leaders of the Ohio State Triathlon Club. Luckily I made good enough time that I got a personal tour of OSU's ridiculous RPAC, the largest college athletic facility in the country (in true Big 10 school fashion they recently added something to edge out another university, I think Arizona).
Club president Greg van Amerongen gave me a detailed tour of the 27,500-foot space where he and fellow club members spend a lot of their time. He was throwing out so many factoids—"Ohio State has it's own zip code, 43210" and "there are a total of 65,000 students here" and "our PT school is ranked top 20"—that I was convinced he must have been a school tour guide.
The tri club, which has 110 members, has been around for about five years and placed eighth at the 2010 Collegiate Nationals. Greg attributes much of last year's success to having a "home field advantage" at the incredibly windy, cold and rainy race. While other schools in warmer climates can prepare for the April championship in moderate temps, OSU is often battling snow and ice during their main training months.
Because they're a Big 10 school, the club is lucky enough to have access to some top training facilities, although varsity sports definitely get priority in terms of things like pool time.
Pizza and Cheap Beer
What kind of college visit would be complete without a stop at a hole-in-the-wall greasy pizza joint with a pitcher of beer? The OSU students (Greg plus dual VPs Hollis Lyman and Brian Dean) gathered a collection of fantastic Columbus triathletes, including multiple race directors, coaches and Central Ohio Triathlon Team members. Despite the fact that we spanned about a 40-year age range, we all chatted like old friends about our passion for the sport. No offense to my new home in sunny San Diego, but Columbus has some tough athletes when it comes to training through adversity.
I walked away with a sweet Ohio State Tri Club long-sleeved technical tee. I'll try not to wear it around my Michigan alumni family and friends.
Next up: Touring ZIPP, medals for a good cause, St. Louis tri club!
-Road Trippin Triathlete/Jené Shaw