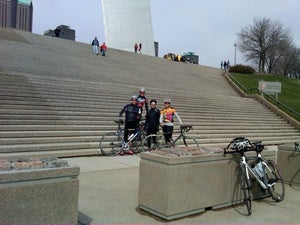 Follow Triathlete magazine senior editor Jené Shaw as she drives cross-country in search of cool triathletes and interesting triathlon-related stuff throughout the nation. Click here to read past Road Trippin' Triathlete articles.
Good morning, St. Louis Arch! Not a bad view to start a birthday.
I headed to Companion Bakery, where owner Josh Allen made me the best birthday cake ever: a massive, oaty granola bar. I contacted Josh initially because 1) he sponsors a local tri team and 2) I love baked goods. But then we made the connection that we shared the same birthday, so I had to stop by to celebrate. The bakery is adorable, with cookies in the shape of everything you can imagine, delicious oatmeal and breakfast sandwiches, and, of course, an array of his famous breads (USA Today voted Companion as one of the top 10 places to get artisan bread). Josh used to do triathlons in the early '90s and raced Kona back in the Scott/Allen days. Look for his granola bar recipe in a future issue of Triathlete.
After breakfast I headed to Big Shark bike shop, a St. Louis triathlete staple. Owner Mike Weiss is really involved in the athletic community, sponsoring multiple cycling and tri clubs, as well as local races. I tagged along on a morning ride with manager Kevin Jokisch and a couple new friends. They took me through Forest Park—the St. Louis equivalent to Central Park but with a lot less tourists—and the Riverfront Trail. We swung by the upcoming Big Shark location on our way through downtown. It's attached to a commuter station, where people who work in the city can ride in, shower, change, leave their bikes in a safe place and go to work. Genius!
St. Louis -> Kansas City
I arrived in Kansas City around six with dinner reservations at seven. I'll fess up: I didn't go out for barbeque. But I can explain! I'm a sucker for locavorism, and when I discovered there was a James Beard-nominated restaurant 30 minutes outside of the city, I had to check it out. Thumbs up decision.
Despite the fact that Justus Drugstore is located in a tiny town in Missouri, it has garnered attention from Food & Wine Magazine and the New York Times. And with good reason—it's a true farm-to-table, seasonal restaurant that takes advantage of having close access to local fare. Luckily I got to chat with chef and owner Jonathan Justus after my meal. He's cooked all over France and the Mediterranean, but ultimately he and his wife—my server that night—decided to open the restaurant where he grew up in Smithville because, well, the food is all "right there." The restaurant's name is an homage to his family's drugstore (which he got sued for by a pharmacy board when first opening!).
Birthday on the road: success!
Next up: Lots and lots of Kansas
–The Road Trippin' Triathlete/Jené Shaw