One of the fastest women on the Xterra scene, Melanie McQuaid is in Morgan Hill, Calif. for a triathlon training camp organized by her sponsor Specialized.
Inside Triathlon senior editor Jennifer Purdie interviewed her on her upcoming races and experiences in Abu Dhabi.
Triathlete.com: Abu Dhabi was a challenge for everyone with plenty of DNFs. What was your racing experience like?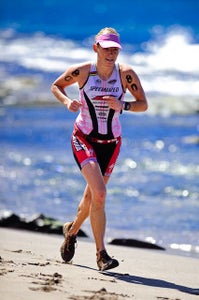 McQuaid: I was at a disadvantage because I didn't come from an Australian summer or somewhere warm. So it was hard coming from the cold into the desert. It was really hard for everyone to push through the pain. There was this dichotomy between those who were able to push through it for the money and stay hard headed about it and those who just didn't make the race a priority. I'm used to racing a 70.3 so the bike course was just so long for me.
I did like the swim right in front of the Emirates Palace. Part of the bike course was on the F-1 course, which is this crazy landmark in Abu Dhabi. That was very cool.
Triathlete.com: It sounds like you did enjoy the travel aspect of the race. How was it being a tourist?
McQuaid: I got to see so much. We went to the Emirates Palace and you can actually put money in an ATM and a gold bar comes out. We also drank cappuccino with gold flakes in it. Everything was so over the top. I didn't do this, but a bunch of people took a jeep and went out to the desert to ride camels and go sand boarding.
I also went to Dubai and saw the high tower, had a glass of wine next to the dancing fountain, went to the Dubai mall. You spend a lot of time at the mall because it's too hot to be outside. I also went to the gold and spice souk.
Triathlete.com: How will this year go for you with the new WTC points system?
McQuaid: I don't think anyone knows how it is going to go. I need to do five races and probably will only finish about four by the time I need to. That doesn't leave any room for bad races.
Triathlete.com: You are mostly an XterraMe racer, but have been very successful at the 70.3. How often do you add in road biking with your training?
McQuaid: I used to do 70.3s for kicks. Now I am investing more time in it. I am making 70.3 a priority. So I would do mountain biking often and road bike once per week. Now I'm switching it around and riding mainly my Specialized Shiv. I am doing the ITU Cross Triathlon World Championship so I am cramming that race into my schedule. So will need to do some mountain biking.
Triathlete.com: What can we expect from you this year?
McQuaid: I like to always get better and keep challenging myself and keep it interesting. That's what drove to me to do well at the 70.3 distance. I have a lot of races scheduled this year. Some of them are the Oceanside 70.3, Xterra Vegas, Xterra Texas, 70.3 Worlds, 70.3 Vineman. I may do 70.3 Lake Stevens again (McQuaid won this event in 2010).
Triathlete.com: What is your favorite race?
McQuaid: I really like Vineman 70.3 and the Xterra in Sardinia, Italy.
Triathlete.com: What is your must-have nutrition during a race?
McQuaid: I'm big into eating bars, but I like it to be tasty. I prefer some chocolate-covered goodie.
Check back to Triathlete.com all weekend to follow McQuaid and the other athletes at the Ironman 70.3 California triathlon in Oceanside, Calif.
[sig:JenniferPurdie]