The March/April issue of Inside Triathlon magazine features a story on Full Throttle Endurance, a triathlon club based out of New York City that boasts some of the best age-groupers in the country.
Written by: Petra Bartosiewicz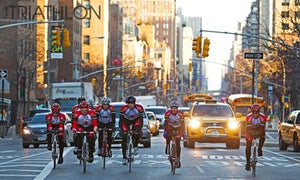 When I ask Bill Kelly what makes New York City's Full Throttle Endurance Training and Racing Club so special, he immediately launches into a drinking story. It's about a particular night before the USAT Club National Championship, and, suffice it to say, it involves some of his teammates and a lot of red wine and a race day spent "puking on my singlet." Kelly, a kinetic 47-year-old asset manager, pauses for dramatic emphasis before delivering the punch line: "I still won my age group, of course."
If that were the only story you ever heard about Full Throttle Endurance, you'd be forgiven for getting the impression that the team's 100 or so members are merely partiers who happen to race triathlon. In reality, as any Full Throttle athlete will attest, after-hours revelry does not excuse you from daily team practices that commence at the unforgiving hour of 5:45 a.m. Full Throttle Endurance, it turns out, is one of the most hardcore amateur triathlon racing clubs in the country.
Kelly and I sit at the bar of the Pop Burger restaurant and lounge in Manhattan's hip Meatpacking District, where Full Throttle is celebrating the end of the season with mini-burgers and beers while a video slideshow of the team's triumphs is being projected on a nearby wall. The dozens of team members in attendance whoop and holler at the familiar faces and the scenes at the finish line. There's plenty to celebrate this year. The team has won its fourth consecutive USAT Club National Division IV Championship title. Among their ranks are some of the best amateurs in the country: Jesse Du Bey, 34 years old and the first amateur at the 2010 Ironman 70.3 St. Croix; Doug Clark, 42 years old and a 2008, 2009 and 2010 USAT masters national champion, as well as the 2009 Ironman M40-44 world champion; Stacy Creamer, 51 years old and first female amateur at the 2010 Nautica New York City Triathlon and third in her age group in the 2010 ITU Duathlon World Championships in Scotland. Kelly, drinking exploits notwithstanding, is a regular first team All-American and the 2009 overall winner of the Mighty Montauk Triathlon in Long Island; he is the oldest person ever to win that race.
Click here to view a photo gallery of Full Throttle Endurance.
To read more about New York's Full Throttle, pick up the March/April issue of Inside Triathlon magazine, on newsstands now.
[sig:CourtneyBaird]