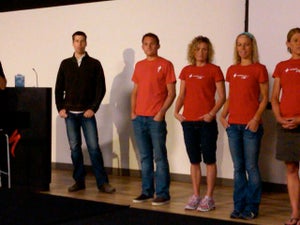 Specialized introduced its professional triathlon team to its company with a Q&A session at the Specialized Triathlon Training Camp in Morgan Hill, Calif.
Here are quotes from this introduction:
On Moving From 70.3s To Xterra
Melanie McQuaid: If you are a mountain biker and want to move into road racing or riding on a TT bike, get a good fit.
On How To Minimize Suffering
Desiree Ficker: When I'm in a marathon,I  pick someone ahead of me and key off of him or her. It minimizes the suffering.
Peter Reid: I did things to occupy my mind and ask myself questions. How's my form? How's my recovery? Have I been eating enough? How's my day going? Where are my competitors?
Jennifer Tetrick: To make it through the swim, my coach told me to be comfortable being uncomfortable.
Ian Mikelson: Pacing is key. You develop this through training and how the body reacts.
Ben Hoffman: I know everyone behind me is suffering, too. So that helps.
On Missing A Training Session
Melanie McQuaid: If I miss a day, it's gone. I just look forward to what I can do in the future. But I don't add in extra workouts to another day. Your schedule is based around periodization so adding in things one day will mess up the next day.
On The First Hour Of The Bike In An Ironman
Peter Reid: First hour is hard because you have to learn what pace to hold. It's very psychological because some of the people you are seeing now, you won't be seeing in a few hours.
[sig:JenniferPurdie]