Inside Triathlon senior editor Jennifer Purdie reports from the Specialized team triathlon training camp.
I am here in beautifully green Morgan Hill, Calif. for the Specialized team triathlon training camp. Specialized has entered the triathlon market and created its own tri team with Xterra, ITU and long course racers. Here are the members of the team: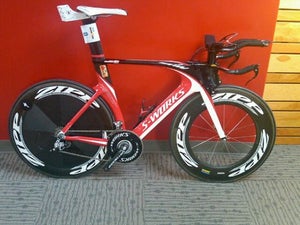 Ben Hoffman
Melanie McQuaid
Desiree Ficker
Tenille Hoogland
Kristen Peterson
Rodrigo Acevedo
Jennifer Tetrick
Ian Mikelson
Chris Coble
Jimmy Archer
Sara Tarkington
Emma Garrard
Flora Duffy
Mandy McLane
Specialized created a diverse tri team to allow for a strong presence at events across the U.S. The professionals were treated to hill climbs with stunning views of the northern California's hills, runs through the quaint downtown and swimming sessions of no less than 5,000 meters.
Gear specialists also discussed the bikes of the long course triathletes—even bringing in Rasmus Henning's sweet Shiv ride to display.
The Bikes
Transition
Pros:
– Great adaptability and fit
– Travel friendly
– Rides well in hillier courses
Cons:
– Difficulty in cornering
Shiv
Pros:
– Optimized for cross wind
– Fast due to narrowness of aero bar
– Seat has ability to angle
– Brings stiffness to the ride
Cons:
– Not super flexible
Triathletes are all using Prevail helmets. For those in the market for a helmet, the experts state consumers should have two objectives: how well does it fit and how well does it ventilate?
Many of the athletes will be competing at Oceanside this weekend.