After placing sixth at the Abu Dhabi International Triathlon on March 12, Aussie Craig "Crowie" Alexander's 2011 race schedule was unclear until yesterday. Though his schedule is subject to change, it contains a few surprises.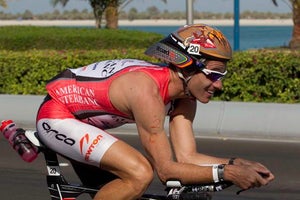 The two-time Ironman world champion plans to continue racing short-course races, such as the Philadelphia Insurance Triathlon, the Life Time Minneapolis Triathlon and the Escape From Alcatraz Triathlon, as part of his Ironman training. Also, World Triathlon Corporation's move of the Ironman World Championship 70.3 from Clearwater, Fla., in November to Lake Las Vegas, Nev., in September has top pros, like Crowie, racing it again.
The 2011 schedule also has much less half-Ironman racing than normal—only three races through December, as compared to seven half-iron races (including Ironman 70.3 St. Croix, where he DNF'ed) in 2010.
Craig Alexander 2011 Racing Schedule*
May 1 – Ironman Australia
June 5 – Escape From Alcatraz Triathlon
June 12 –  Ironman 70.3 Eagleman
June 26 – Philadelphia Insurance Triathlon
July 9 – Life Time Minneapolis Triathlon
September 11 – Ironman World Championship 70.3
October 8 – Ironman World Championship
November 5 – ITU Long Distance Triathlon World Championship
November 15-20 – Hamilton Island Triathlon/Camp
December 4 – Ironman 70.3 Asia-Pacific Championship
*Schedule is tentative.