New Zealand's Cameron Brown became the first athlete to win the same Ironman 10 times, while fellow Kiwi Samantha Warriner won her first Ironman title only a few months after undergoing heart surgery.
Click here to view a photo gallery of the day.
Written by: Holly Bennett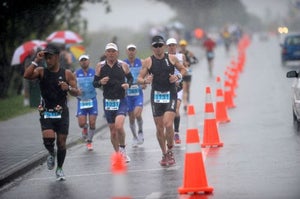 The 2011 Ironman New Zealand may well have seemed like a 140.6-mile swim for the athletes competing in Taupo on New Zealand's North Island. The rain pelted competitors from start to finish, subsiding only for a short window in the early afternoon, flooding roads and creating hazardous and dreary conditions.
In the men's professional race, New Zealander Brent Foster took an early lead out of the swim with a time of 46:02, followed closely by fellow Kiwi Terenzo Bozzone, hoping to claim his first Ironman win. The two were joined on the bike by Mathias Hecht (SUI), Keegan Williams (NZL), James Bowstead (NZL) and Scott Curry (CAN), with the Canadian pulling away near the 60K mark and managing to hold a substantial gap until the early miles of the run.
The real threat in the men's race, however, came in the form of defending champion and nine-time winner Cameron Brown, who quickly caught up to the lead men by the end of the first lap and exited T2 a mere 2:45 back from Curry. With Brown's well-known run prowess, his historic tenth victory was almost a forgone conclusion; yet the local icon made sure to prove his dominance of the Ironman New Zealand course, winning by a near ten minute margin in a time of 8:31:07. Bozzone did put in an impressive effort and was rewarded with his third consecutive runner-up finish in 8:41:54. Hecht held on for third, posting a time of 8:45:36.
"To win here once was fantastic, but to do it 10 times is pretty special," said an exuberant Brown. "And I'll keep racing for as long as I am still passionate about it." Perhaps we'll see an even dozen collection of titles from the 38-year-old multi-sport legend, who shows no signs of slowing down or conceding to his younger rivals.
On the women's side, Sam Warriner (NZL) lead from start to finish for a surprising victory in her Ironman debut, a mere three months after undergoing heart surgery to address supraventricular tachycardia, a condition in which the heart's electrical impulses dangerously misfire. The Ironman rookie was the expected leader out of the swim, yet defending Ironman New Zealand champion Joanna Lawn (NZL) and reigning women's world champion Mirinda Carfrae (AUS) were top picks to commandeer the course. The two exited T1 together, just two minutes down from Warriner, and powered through the first lap of the relentlessly rainy bike. At the 85K mark, Lawn suffered a time-sucking flat tire, unable to make fast work of the wheel with rain-frozen hands. It appeared Carfrae might have a clear path to her second Ironman title, when she, too, suffered a flat tire on the rainy roads.
"I had a sympathy flat about 5K after Jo," joked the Aussie phenom, making light of her misfortune. Carfrae's fix also took a significant chunk of time, opening a surprise window in the women's field. Warriner's lead expanded significantly and she started the run over nine minutes ahead of her closest competitor, Kate Bevilaqua (AUS). Carfrae and Lawn both found their strides on the run, working their way back through the women's field, and speculation ran high as to whether or not Carfrae would put enough time into Warriner to clinch the win. In the end, the 23-minute gap proved too great to close, and Carfrae settled for second, finishing in 9:31:33 behind Warriner's 9:28:24. Lawn, the seven-time winner here in Taupo, followed closely for third in 9:31:53.
"Words can't express it. When something like that happens," said a victorious Warriner, referring to her now-resolved heart condition, "You're just happy to be on the start line. To win in New Zealand, is just a dream come true."
Ironman New Zealand
Taupo, New Zealand – March 5, 2011
2.4-mile swim, 112-mile bike, 26.2-mile run
Men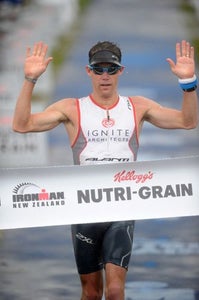 1. Cameron Brown (NZL) 8:31:07
2. Terenzo Bozzone (NZL) 8:41:54
3. Mathias Hecht (SUI) 8:45:36
4. Keegan Williams (NZL) 8:49:34
5. Scott Curry (CAN) 8:50:44
Women
1. Samantha Warriner (NZL) 9:28:24
2. Mirinda Carfrae (AUS) 9:31:33
3. Joanna Lawn (NZL) 9:31:53
4. Kate Bevilaqua (AUS) 9:40:01
5. Belinda Harper (NZL) 9:40:33