Inside Triathlon Editor-in-Chief Courtney Baird takes you to the streets of Abu Dhabi with a look at the buzz of the city less than 24 hours out from the big race.
The Khalidiya Palace Hotel in Abu Dhabi, United Arab Emirates, is buzzing with activity as pro and amateur triathletes prepare for Saturday's Abu Dhabi International Triathlon.
Triathletes are simply everywhere—you hear the "click click click" of their time trial bikes as they roll them through the lobby, you see them swimming in the Persian Gulf just steps from the hotel, and you watch them relax together in the hotel's lounge.
Because most of the race's pros and amateurs are staying at the Khalidiya Palace Hotel, if you time your meals right and you may catch a glimpse of reigning Ironman world champion Chris McCormack sampling the hotel restaurant's buffet, or you may notice two-time Ironman world champion Craig Alexander chatting with multiple Ironman winner Belinda Granger, or you may share an elevator ride with 2005 Ironman world champion Faris Al-Sultan.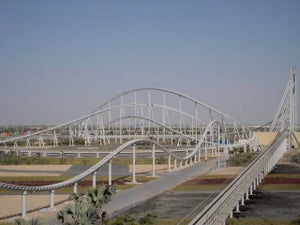 And although Abu Dhabi may be thousands of miles away from home, chances are good that you'll run into a familiar face if you're racing the Abu Dhabi International Triathlon. I randomly ran into a woman I often compete against back in San Diego, Calif., while we both waited in line at the hotel's café.
Because I'm not racing tomorrow, I was able to take an excursion outside of the hotel today—I went to Ferrari World, the world's largest indoor theme park.
Ferrari World is also home to the world's fastest roller coaster. The Formula Rossa propels you to 62 miles per hour in less than two seconds, and the coaster goes up to 150 miles per hour over the 1.25-mile track. The riders in the front of the coaster have to wear goggles, and guests are strictly told to get rid of their loose items, such as watches and jewelry, and to empty their pockets. Take a ride on the roller coaster and it will ruin all other roller coasters for you for the rest of your life, as every other will seem too docile.
[sig:CourtneyBaird]